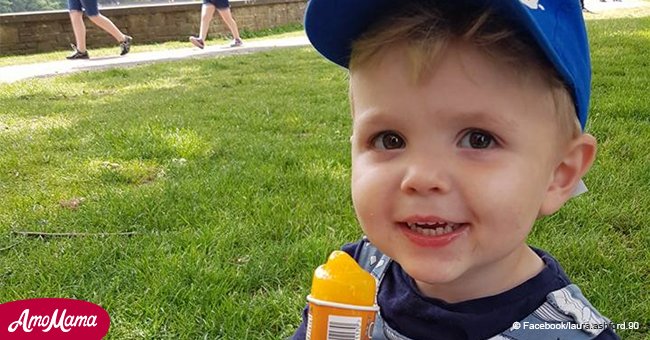 Mother shared warning after 2-year-old suffered severe burns at public beach

A toddler's feet were badly burned after he stepped on the lefts of a bonfire buried in the sand.
Laura Ashford has used Facebook to raise awareness about the dangers of disposable BBQs or fires on the beach and not using a safe way to get rid of the remaining charcoals.
Ashford told about the nightmare her family suffered after Harri, her 2-year-old boy, was severely burned when he stepped on the remains of a beach bonfire that was buried underneath the sand.
Harri has been playing in the sand for about an hour went he suddenly started screaming in agony, when his mom picked him up she saw smoke coming from the soles of his feet and realized he had just stepped on some hot coals.
She quickly picked him up and took little Harri to a hospital where doctors treated serious burns on his right foot and several blisters on his left. Read more on our Twitter account @amomama_usa
Ashford wrote later on Facebook: 'Harri was incredibly brave when the doctors had to burst and scrape all the blisters and apply the dressings. It's likely to take four to six weeks for his wounds to heal completely.'
It's surprising how much hurt and pain can be caused by some reckless people, whoever left the red-hot coals there should be ashamed of themselves.
'I have no words to express how lazy and stupid your decision was and the consequences this has now had for Harri' wrote the irritated mom.
The doctor who treated Harri said he had seen at least three other kids burned by smoldering beach barbecues. Ashford pleaded in her post 'please dispose of BBQs/coals responsibly; please think of others, there is no excuse.'
Laura is encouraging people to share the story in the hope this will prevent it from happening to another child. She praised NHS staff that cared for Harri and she is proud of how well he has coped after this awful incident.
Please fill in your e-mail so we can share with you our top stories!