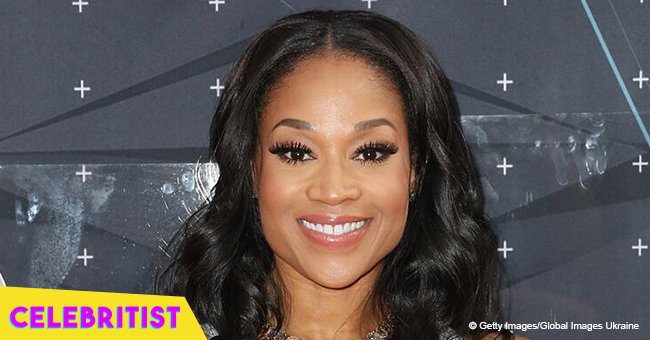 Mimi Faust sparks debate after sharing 'family photo' with her longtime lady love & daughter

Since opening up about her relationship with her longtime girlfriend Tamera Young, Mimi Faust has been celebrating her freedom to be with the woman she loves. But a recent photo she posted where she and Tamera are joined by her daughter Eva is casting a shadow over her happiness as fans debated over it.
Mimi Faust is happy, and she's proven that when she outed her same-sex relationship last year. She posted a photo looking genuinely affectionate with her rumored girlfriend Tamera Young and seemed to confirm their relationship when she captioned it,
"She Keeps Me Smiling."
The 'Love & Hip Hop: Atlanta' star previously hinted at dating someone during an exclusive interview with Hollywood Life but didn't provide details of who it was. She only revealed,
"I am dating. I am actually dating someone, but I am not dating different people. I've been dating one person…"
But when her photo with the WNBA player surfaced on her Instagram in March 2017, it was the kind of confirmation everyone was waiting for. Months later, the couple opened up to Rolling Out magazine revealing why their relationship works. According to them, it's partly because Tamera is shy and has never appeared on Mimi's reality show.
"We like our relationship," Tamera says, to which Mimi adds,
"Right! Every time someone gets on television with their relationship, it gets messed up. We're trying to manage what we have. If she does a cameo, it'll be Facetime or a phone call. But if we do it, I need to be sure it's going to be a safe scene."
Meanwhile, Mimi seemed to have introduced Tamera to her daughter with Stevie J as a recent photo she posted proves. The couple was joined by 7-year-old Eva during in the snap taken during Tamera's basketball game. Simply captioning it "family," Mimi is proving to the world that everything is okay in her life with Tamera part of her small family.
But her post also came with a lot of debate from her followers who questioned her motives and her decisions.
"Okay Mimi Has Her Daughter Around Another WOMAN. Y'all Kids Be Around Drug Dealers And Rapists"
"Girl stop introducing her to a new girlfriend every season damn okay we get it you need a story line!"
"This is wrong."
"Poor lil baby gone be all confused"
Another follower expressed confusion.
"I didn't know Mimi was genuinely dating her. I just thought it was made up for reality television. I feel bad now."
Many argued over the issue of same-sex relationships even quoting the Bible to prove their points. But there were also those who stood up for Mimi and respected her right to choose who she loves.
"facts! everyone their own way of living but to keep coming on this woman's page quoting Bible scriptures and telling her it's a sin is too much. They need to learn to stop quoting the party of the Bible that is beneficial to them. Don't leave out the part where they was out here bobbing for apples or the part where they was having sex before marriage or the tattoos or mixing cloths, the piercings all of it. They need to leave this happy woman alone."
"Love is love and I see a lot of it in this pic! Not to mention her dad @hitmansteviej_1 supports Mimi in all her decisions...why you ask - cause they respect each other, just as all great parents should! Now take your judgmental ass somewhere else!!"
"People with small minds are trapped souls within themselves all the negative comments makes no sense @mimifaust @tyyoung11 you are beautiful together to hell with what ppl say all they are doing is keeping y'all relevant Eva looks happy @hitmansteviej_1 is happy that y'all are happy and in gods eyes that's all that matter"
Check out more of the debates in the controversial post below.
Please fill in your e-mail so we can share with you our top stories!