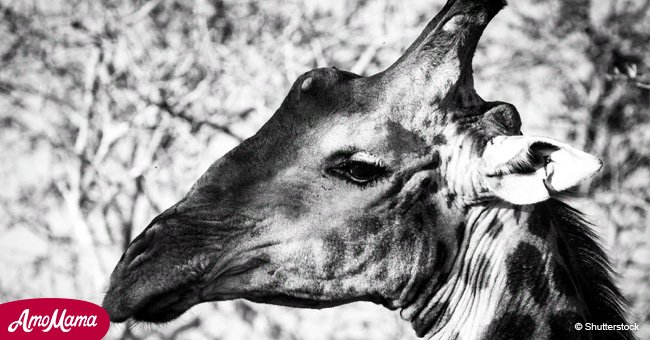 Trophy hunter sparks outrage after killing and posing with rare black giraffe
Although the hunting is legal as per South African Trophy Hunting Laws, Kentucky-based Tess Thomson Talley's act of hunting an 18-year-old giraffe is being widely criticized under moral and ethical views.
Tess Thomson Talley, a Kentucky Native, had travelled to South Africa back in 2017. It would end up being a trip she would never forget, as she hunted an 18-year-old black giraffe, something she said was a dream of hers.
This incident was brought to light in last month, as reported by Yahoo Lifestyle, when Africa Digest posted her pictures on their social media profile and labeled Tally a 'White American Savage, partly Neanderthal.'
This tweet went viral and several netizens including celebrities like actress Debra Messing reacted with strong critique, severely condemning Talley for the event.
Read more about this story on our Twitter account @amomama_usa.
The incident has sparked an international controversy, particularly since Talley's act cannot be termed as illegal.
Several African nations like South Africa, Kenya and Nigeria have legalized trophy hunting, and it has proven to be a lucrative business for the governments.
The business has increased the tourism in many countries and the governments have released statements revealing that they have utilized the income from trophy hunting towards other nature conservation initiatives.
However, the uproar on social media against Talley's hunting adventure has been strong, with people calling her out for being 'disgusting' for taking pleasure in hunting the wild animal, with only a few voices defending her.
As per an email sent by Talley to Fox News, she defended herself stating that the giraffe she killed was too old to breed, and had also killed three younger males who were able to breed.
She also wrote that she was given this information about the giraffe by the authorities that manage trophy hunting in South Africa. She called it 'conservation through game management.'
Dr. Julian Fennessy, co-founder of Giraffe Conservation Foundation, said that this particular giraffe was not an endangered one.
She claimed that trophy hunting of giraffes is not the reason for the decline of giraffe population in America. She also said that recent numbers have shown an increase in the giraffe population in the wild.
On the flipside, the episode has also highlighted an ethical dilemma with respect to trophy hunting, questioning whether human beings are in the right to take away another animal's life as a sport.
Please fill in your e-mail so we can share with you our top stories!