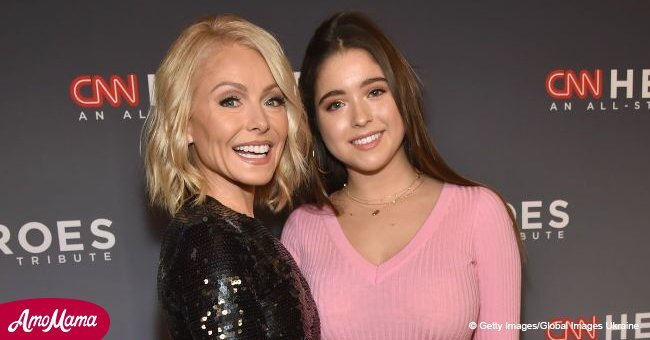 Kelly Ripa's daughter stole the show at prom in thigh-high slit gown
Kelly Ripa's daughter, Lola, impressed in a thigh-high slit dress which she wore as a part of her glamorous prom look.
A photograph posted by Ripa on her official Instagram account showed the 16-year-old posing in a purple gown alongside her fabulous-looking date.
Ripa captioned the photo as, 'Prom night 2018,' and it has so far received over 260,000 likes from loyal fans and followers.
In the photograph, Lola looks stunning in a glamorous purple gown as she flashes a gorgeous smile looking away from the camera.
Follow us on Twitter to learn more.
She further accessorized herself with purple heels, which perfectly matched her dress and a simple necklace.
The photograph had no shortage of admirers and well-wishers, who took time to comment about the young girl stunning fashion appeal.
A user, Iynnash, commented that Lola looked 'beyond stunning,' and further congratulated Ripa and her husband, Mark Consuelo, for this.
Another Instagram user, Lesdisalvo, wrote, 'Omg! She's beautiful like you! And her body is amazing! And how can she get mad? She got 260,000 likes!'
The comments came in reference to Ripa's admittance about how she and Lola sometimes fight over the photographs which Ripa posts to Instagram.
While appearing on The Tonight Show Starring Jimmy Fallon, Ripa opened up about an incident in which Lola demanded her to take down a Halloween throwback photo showing an eight-year-old Lola.
She said: "I was like, 'You know what? She can't get mad at an eight-year-old photo. It's a Halloween throwback Thursday.' I'm in the elevator coming up here and the phone rings and it says 'Lola'... She's like, 'You take it down right now! My friends follow you for some reason and they will see this! I was like, 'You know what? I will take it down. I'll take it down for you.'"
Lola is the second child of Ripa and Consuelo. The couple also together share children Michael Joseph, who is 21 years old, and Joaquin Antonio Consuelo, who is 15 years old.
They met for the first time on the set of All My Children and, only a year later, in 1996, got married.
Ripa recently also got into a bit of a row with one of her social media followers. A commenter questioned her work ethics in one of the photographs she posted on her during her vacation in Greece.
"She's the only anchor with the whole summer off," the commenter wrote under the snapshot while responding to another fan. The commenter further suggested that Ripa 'doesn't work that hard to begin with.'
Replying to the critic, Ripa let it be known, in no uncertain terms, that she was 'not an anchor' and she did not have the entire summer off. She then added that she works 'extremely hard.'
Please fill in your e-mail so we can share with you our top stories!