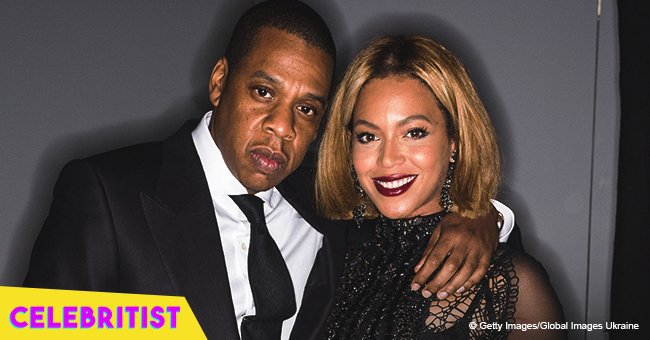 Beyoncé and Jay-Z melt hearts with Blue Ivy in fun-filled family photo by the sea
The royal couple of the R&B industry is currently in the middle of their joint tour around Europe, but they took a little break to enjoy the ocean in the company of their eldest daughter, Blue Ivy. A few days ago, Beyoncé's performance was stranded after a flying stage malfunction.
Beyoncé and Jay-Z have been traveling around Europe for the past month with their joint "On The Run II" tour. The couple took the entire family, including twins Sir and Rumi, and their eldest daughter Blue Ivy with them.
Over the weekend, Queen Bey took to Instagram to share a set of beautiful photos of the couple enjoying a little break between stops of the tour in the company of Blue Ivy. The Carter family enjoyed a sunny day seaside, as the singer posted pics on the deck of a boat rocking a patterned orange dress, sunglasses and see through Ritch Erani heels.
Jay-Z, on the other hand, went for a striped t-shirt, black pants, and white sneakers, and Blue Ivy looked gorgeous in an all pink ensemble with a patterned t-shirt, shorts and a headband with cat ears. Even though the twins are not pictured in the photo, they were probably lounging inside the private boat.
(Swipe right on the set below to see Blue Ivy's photo)
Beyoncé also shared a boomerang of her and her husband seating casually on stone steps and enjoying the weather. In the clip, the "Lemonade" singer took off her shoes and put them next to her half-full Corona beer.
This mini vacation comes days after Beyoncé's performance in Warsaw, Poland was stranded thanks to the malfunction of a flying stage that got stuck 20 feet in the air, leaving the singer no other option but to make an emergency exit by stepping down a ladder.
In videos shared by fans on social media of the incident, three men from the concert staff seem to be coaxing Beyoncé into stepping down the ladder, but she was not charmed by the idea an even broke into an impromptu dance as fans kept on cheering for her.
Eventually, she accepted her fate and made her way down the ladder slowly thanks to her high heels. The concert then moved on without any other inconveniences and fans praised Beyoncé for keeping her composure and professionalism.
Beyoncé and Jay-Z will return to the stage today at Müngersdorfer Stadium in Cologne, Germany, and they will visit Italy, Spain, and France before they return to the U.S for the American leg of the tour.
Please fill in your e-mail so we can share with you our top stories!