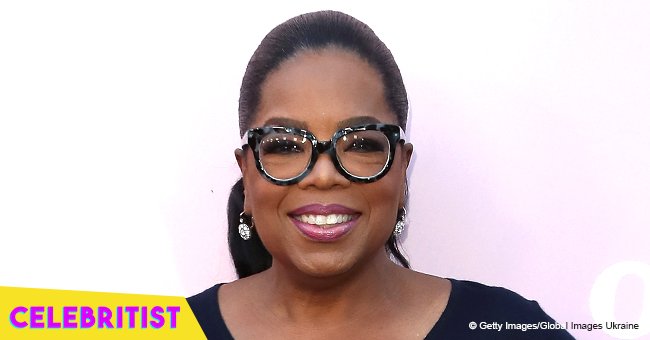 Oprah rocks massive diamond earrings and off-shoulder gown in recent picture
Oprah Winfrey is a regal stunner in her latest cover shoot for British Vogue. She fashions massive diamond earrings and dons a ruffled off-shoulder gown making this her most iconic cover yet. Among other things, the entertainment mogul reveals her thoughts on running for president, feminism, and the loss of her son at a young age.
Having recently attended the royal wedding of Prince Harry and Meghan Markle, Oprah Winfrey made her own royal appearance on British Vogue's August 2018 cover. The talk show host was every inch a regal wearing a white, off-the-shoulder, custom-made taffeta Stella McCartney gown. She pulled her hair back to reveal her enormous Buccellati earrings with white and yellow diamonds and emeralds. Flawless make-up highlighted her noticeably thinner face making this latest cover a stunning revelation.
The 64-year-old media mogul addresses several topics in her interview with the magazine, the most important of which was her stand on running for president in 2020. Without batting an eyelash, she reveals she will NOT be running for the most powerful position in America because "it would kill me."
"In that political structure — all the non-truths, the bulls**t, the crap, the nastiness, the backhanded backroom stuff that goes on — I feel like I could not exist. I would not be able to do it. It's not a clean business. It would kill me."
This is not the first time the television star spoke up about her political non-plans. In February, she told People that it would take divine intervention for her to consider running for the Democratic party despite her long-time partner Stedman Graham and her best friend Gayle King's urging.
"I pay attention, and when you have that many people saying something, I thought gee, I never in my life, ever, ever, thought I would be in politics. I've always said no no no no no,' she said at the time. 'Am I at least supposed to look at that question?
'"I had enough people, billionaires calling me, saying I can get you a billion dollars, I can run your campaign.
"And I went into prayer. God, if you think I'm supposed to run, you gotta tell me, and it has to be so clear that not even I can miss it."
Oprah was widely praised for her passionate speech during the 2018 Golden Globes prompting Twitterdom to launch an 'Oprah 2020' campaign.
While she firmly believes politics is not for her, she does have a great passion for the growing clout of feminism which she also discusses in her Vogue interview. With the rise of the 'Time's Up' movement, the opinionated star is optimistic.
"People talk about 'these are such dark times,' but what if we shift the paradigm? Because I see it differently,I see, 'Isn't this remarkable that we're waking up?'
"For years, women have endured craziness. This is what's happening to people. They're allowing themselves to not just become corroded, but to become hysterical. You've got to lean to the happiness."
Source: Getty Images
Oprah has admitted to being a victim of sexual abuse herself which resulted in her pregnancy at the age of 14. Unfortunately, she lost her son a few weeks after giving birth. Though she has since moved on from the trauma of that experience, she opts not to think about it. However, she recounted a recent incident which prompted her to remember her son.
"I actually saw someone the other day and they said how old they were — 45 — and I was thinking, well, how old would my son have been? I'm 64 — so he would have been 50. But I don't think about it."
"Considering the fact I've interviewed so many people who were haunted by [the death of a child], and who got stuck and never moved on, yes, I feel very liberated by it.''
Oprah's cover photo was photographed by Mert Alas and Marcus Piggott and styled by Vogue editor-in-chief Edward Enninful whom she thanked for her "regal experience" on https://www.instagram.com/p/BkvQms3AbRK/?taken-by=oprahInstagram.
Please fill in your e-mail so we can share with you our top stories!