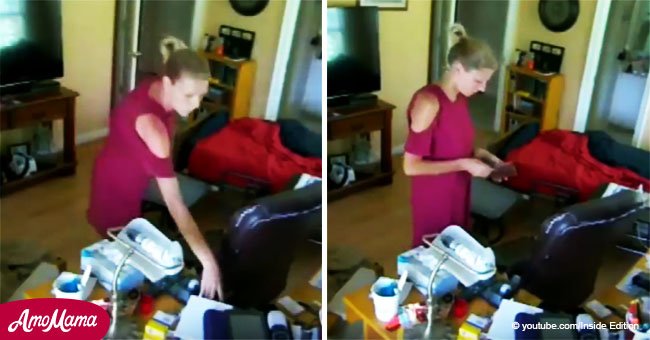 Woman caught on camera stealing money from 94-year-old veteran's wallet
A woman has been caught red-handed taking money from the wallet of a 94-year-old Navy veteran in Georgia.
Thomas Hendrix is a 94-year-old retired US Navy veteran who lives with his caretaker at his home in Georgia.
Neal DeLoach, who has lived with Hendrix for 10 years, was not there when Thomas let a family of four; the woman, her two young kids, and a man into the home. After learning about the robbery he shared the story to publicly shame the woman.
Fortunately, the surveillance cameras recorded the entire incident. When DeLoach returned home and checked the tapes, he realized neither he nor Hendrix knew those people.
The woman, identified as Heather Weldon was seen entering the elderly man's home in Douglas, Georgia on June 25, along with her two children and an unidentified man. Police still don´t know how the family managed to convince Hendrix to let them in.
According to the camera footage, the man and two children can be seen leading Hendrix into another room while the woman stays behind with the excuse to use the bathroom. To learn more, follow our official Twitter page, at Amomama USA.
Weldon is seen pretending to use the bathroom and instead goes to Hendrix's wallet and steals $40 while everyone is in the other room. She then put the money in her dress and quickly went to the bathroom to flush the toilet.
Police found the mother-of-two after she identified herself on Facebook while trying to defend her actions. She commented 'I did not steal from him it was all a big misunderstanding. I done spoke with the man and everything is took care of!!'
DeLoach, who takes care of the elderly veteran, said he was not home at the time and does not know the people that entered the house: "Well, first of all, I didn't know who they were. I was kind of panicking. I knew Mr. Hendrix didn't know them."
"It kind of scared me that I've got security cameras all over the property that you can see and they still came right in and you know, very brave. And that's what scares me about the whole situation, people are just brave," DeLoach added.
Please fill in your e-mail so we can share with you our top stories!