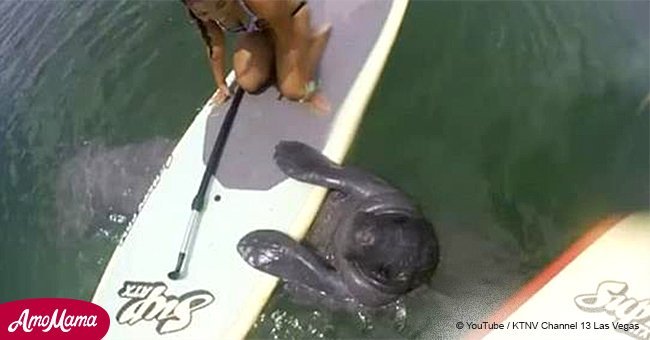 Friendly manatee surprises paddleboarders by jumping on board 'to say hello' (video)
Two paddleboarding friends received a delightful surprise when a manatee climbed up against one of their boards.
Celine Chasteen and her friend were paddleboarding off a coast in Jupiter, Florida when the sea cow rose above the water and placed its two flippers up on the board, a video posted on Facebook showed.
The sea creature approached Chasteen's board and casually hung out for about 30 seconds before disappearing back underwater.
The rare video recorded showed how the two lucky friends had the chance encounter with the manatee, an incident that completely freaked them out at first.
Chasteen later explained The Dodo about her chance encounter with the animal. 'We were going along the coast and I saw what I thought were rocks, but then they started moving. The next thing I know, there's a manatee putting his flippers on my board," she said.
She further opened up about her surprise when the manatee showed up on her board. Then after a few moments, she started to enjoy the experience.
"At first, I was like, 'What is going on?' but honestly, it was so cool. I've never experienced anything like that before," she told the source.
Chasteen added that she found the animal "really cute." Recalling the incident as a "nice" experience, she further hoped that her new friend might drop by again.
According to Uplifting Today, the Florida Fish and Wildlife Conservation Commission issued a statement reminding the public that manatees are protected species and they should not be touched or pursued.
In that regards, the paddle boarders, Chasteen and her friend, did the right thing by only observing the sea creature and not trying to touch it or follow it.
The source further informed that manatees should be left alone if they are trying to avoid the humans, and they should not be pursued.
Please fill in your e-mail so we can share with you our top stories!