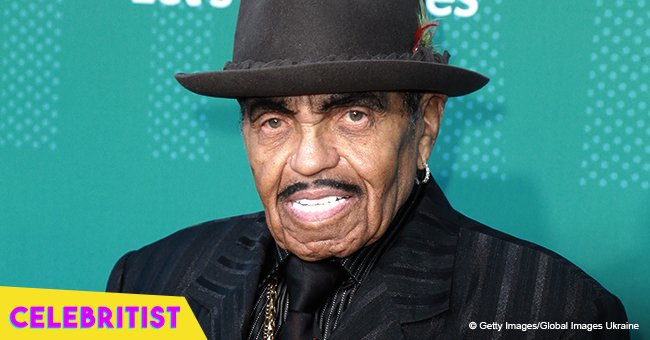 Jackson family attends Joe Jackson's funeral luncheon 5 days after he died
Joe Jackson's family put all issues aside to attend his funeral luncheon five days after he passed away, bidding their patriarch one final goodbye before he is laid to rest beside his son Michael Jackson.
In video footage obtained by Daily Mail UK, Janet Jackson, her son Eissa, and other members of the Jackson clan gathered together to chat after attending the luncheon.
While they were not seen in the video, Joe's grandchildren Paris, and Blanket, his daughter LaToya, and his wife Katherine were all spotted in the cemetery. Other distinguished guests at the funeral included Stevie Wonder and Johnny Gill.
The patriarch of one of the most successful American musical dynasties passed away last Wednesday at the age of 89, after suffering from stage 4 pancreatic cancer.
His simple and private memorial service took place at Forest Lawn, Glendale, where his son, King of Pop Michael Jackson was also laid to rest in 2009.
According to a Daily Mail source, the Jackson patriarch faded into unconsciousness last Tuesday, taking his last breath the following day with his wife Katherine by his side.
Joe and Katherine's 69-year relationship was turbulent, and although they never divorced, they were separated due to her husband's extramarital affairs. The couple shared 10 children, including famous singers Janet and Michael. In 1974 and 1982, the mother-of-ten tried to divorce her husband, but was persuaded to rescind the divorce papers. They remained officially married until Joe's death.
After the funeral luncheon, numerous family members took time to create thoughtful tributes about their loved one on social media, hoping to enshrine his memory forever.
" [...] You taught me to take pride in the Jackson name and what it really means, you taught me dedication in the face of adversity and most of all you showed me strength and fearlessness. There is and never will be someone like you. Fly free and until we meet again The Hawk."
"spending those last few moments with you were everything. being able to tell you everything i needed to tell you before saying goodbye was such a blessing. everyone that came to visit you, came with love, respect, and so much pride in their hearts for you. proud of you, proud to be your children, grandchildren, and great-grandchildren, proud to have your strength and share the dynasty you spent your life creating, and proud to be a jackson. you are the first true jackson. the legend that started it all. none of us would be anywhere near where we're at if it weren't for you."
"I will always love you! You gave us strength, you disciplined us in your own way, you made us one of the most famous families in the world. I am extremely appreciative of that, I will never forget the last moments we spent together and how you told me how much you cared, how proud you were of me and how much you loved me! I am most grateful for that!"
Rest In Peace, Joe Jackson.
Please fill in your e-mail so we can share with you our top stories!