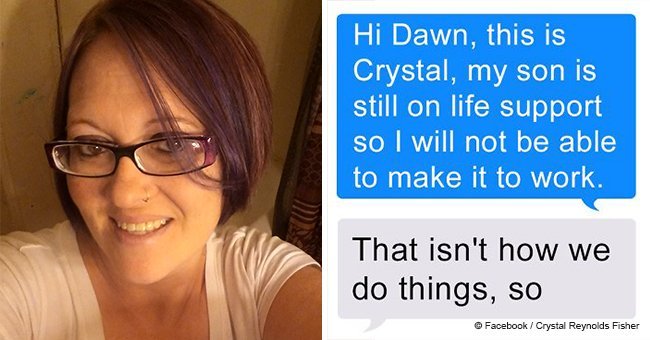 Manager told employee with son on life-support to turn up for work or quit
The company fired the unreasonable manager after she told an employee whose son is on life-support to show up for work or resign.
Crystal Reynolds Fisher from Michigan was disappointed after she had a misunderstanding with her boss because she asked for a couple of days off since her son is on life support and she needed to stay with him as much as possible.
The boss exclaimed that her situation was not a valid reason not to show up for work. Fisher – who works at the PS Food Mart - was appalled and took to Facebook to post the screenshots of text messages between her and her boss named Dawn.
On June 30th, Fisher texted her boss to inform her that her son was still on life support and she would not be able to work until her son's condition was stable
Follow us on Twitter at AmoMama USA for more stories like this.
Fisher informed her supervisor that she was giving her a 48-hour notice. Instead of showing empathy, Dawn said that if Fisher were not going to show up for work on Monday, she would consider that Fisher would have resigned from her job.
Fisher tried to reason with Dawn but she remained firm in her decision. As shown in the screenshots, she said there was no reason that Dawn couldn't work.
The Michigan mother finally stood her ground and said that she was going to contact the corporate.
Fisher took her 18-year-old son Jason to Oaklawn Hospital located in Marshall, Michigan after they found out he had a 104-degree fever.
At that point, the mother was distraught that she suffered from several panic attacks, which made it even tougher for her to think about work. While she was worried about her son's health, she had to worry about her own as well.
Before the series of messages exchanged by Fisher and her boss, Fisher's daughter initially called Dawn to explain the situation.
Fisher told Fox 17 that she overheard her boss telling her daughter on the phone, "This isn't the way we run things, your mother needs to be the one calling me."
When Fisher shared the screenshots of their text messages on Facebook, it quickly went viral. A lot of people shared the post that Fisher's story reached the owner of PS Food Mart which is the Folk Oil Co.
On July 2nd, the company posted a message on Facebook in response to the situation.
According to the post, Dawn, Fisher's boss was terminated and is no longer associated with the company.
As for Fisher, the company ensured that they understand her situation and that they will give her the time that she needs to focus on herself and her son.
Please fill in your e-mail so we can share with you our top stories!