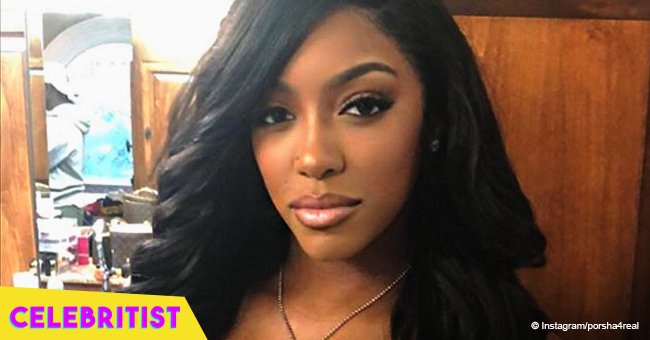 Porsha Williams flaunts curves in plunging, black jumpsuit in recent pictures
The "Real Housewives of Atlanta" star has been flaunting her curves left and right after revealing she has a new love interest and releasing her new fitness solution.
Porsha Williams recently celebrated her 37th birthday, but she doesn't look a day older than 30. The beauty reality star has an enviable body that all her fans are always praising, and she's not shy when it comes to sharing it on social media.
In a set of recent photos shared to her Instagram account, Porsha looks gorgeous in the middle of a recording even though she looked "done" in one of the shots. Holding a wine glass and wearing a black jumpsuit with an off the shoulder neckline, Williams blamed her astrological sign for her mood swing when she posted another photo smiling brightly five minutes later.
The reality star and entrepreneur recently launched a new product for her followers that want to have a great body like hers. "Bodied By Porsha" is a healthy body detox that, paired with Porsha's waist trainers, seem to be giving the reality star her curvaceous body.
Of course, she makes sure to get her followers to know that they have to put some effort to achieve a fit body. For the star, is not only about exercising or doing a detox. Healthy eating and having a proper mindset is part of the process. She's currently on a vegan diet and seems to be enjoying as she shared photos of her meals to inspire her fans to follow her path.
But despite her healthy decisions, Porsha allows herself to step out of the diet from time to time as she did on the surprise birthday dinner that co-star Marlo Hampton planned for her a few days ago.
A few weeks ago, Porsha finally revealed there's a new man in her life, and even though his identity remains a mystery for avid fans, she admitted on her radio show "Dish Nation," that the key to finding love is to stop looking for it.
"And that's how it happens — it's always when you're not looking anymore," she said. "It's when you go ahead and give up… I stopped looking, and he arrived. I gave up, honey, and bought cats online. They on the way, Ima have to cancel the order. I was ready to just let it go."
Porsha is glowing these days, and we're sure that her self-confidence comes from her healthy journey and the fact that she now has someone that appreciates her effort up close and personal.
Please fill in your e-mail so we can share with you our top stories!