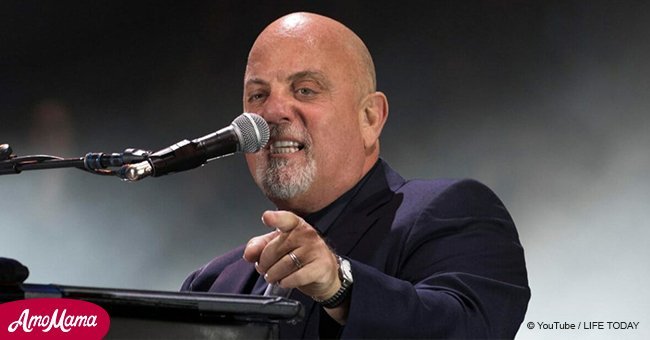 Here's why Billy Joel never sells front row tickets to his concerts
Billy Joel opened up about why he discourages allowing anyone to be given front row tickets to his concerts.
Speaking during a 2014 Interview with Billboard, the 69-year-old artist said that they do not put front row tickets on sale because of scalpers.
He revealed that he has done this for several years to discourage scalpers forcing true fans to pay ridiculous amounts of money to get front row tickets to his shows. Follow us on our Twitter account @amomama_usa.
The iconic singer, who is also famous as 'Piano Man,' was upset about the fact that most of his fans were unable to enjoy the front row seats to his concert because of the high scalped prices.
"We never sell front rows. We hold those tickets at just about every concert," he explained. "For years, the scalpers got the tickets and would scalp the front row for ridiculous amounts of money. Our tickets are cheap, under $100, some in the $80s, the highest is about $150."
He explained how he would look down and see only rich people, whom he called, 'gold chainers,' sitting there in the front row.
"Sitting there puffing on a cigar, 'entertain me, piano man,'" he said, bemoaning the attitude of wealthy people who spend a ridiculous amount of money to get front row seats to shows, whether they are fans or not.
"They don't stand up, make noise, sit there with their bouffant-haired girlfriend lookin' like a big shot. I kinda got sick of that, who the (heck) are these people, where are the real fans?" he further told the magazine.
He knew that his loyal and dedicated fans were always in the back of the concert venue sitting in the worse spots. So when he finds a member of the audience in these seats, his crew members bring them over to the empty front rows.
The singer takes great satisfaction in the fact that the people in the front row seats now have huge smiles on their faces and they cheer Joel on as he performs his greatest hits.
He has been in the music scene since the 1960's with mega-hit album releases throughout the 70's, 80's, and 90's.
Throughout his 20 years of solo career, he has produced 33 Top 40 hits in the U.S. He was also inducted into the Songwriters Hall of Fame in 1992. Seven years later, he also made it to the Rock and Roll Hall of Fame.
The iconic singer recently put up another spectacular show for the audiences at Volksparkstadion in Hamburg, Germany. Taking to Facebook, he posted a snapshot of the songs that he performed on the night.
He captioned the post by adding just a hashtag: '#AboutLastNight. Fans who attended the special show took time to thank Joel for his performance and wrote about their experience in the comments section.
Facebook user Katharina Wirtz wrote that it was a 'fantastic night.' She then added, 'It might have been my once in a lifetime chance to hear you play and it was worth every minute.'
Please fill in your e-mail so we can share with you our top stories!