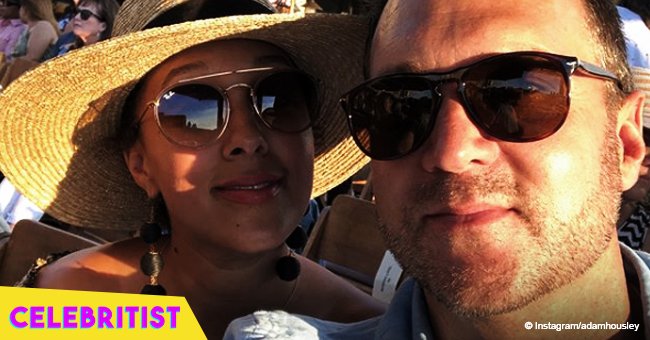 Tamera Mowry's husband gets dragged by black critics over 'problematic' 4th of July post
Adam Housley battles it out with critics who slammed him for his 4th of July post. His wife opted to keep mum and focus on their children.
Tensions are high this 4th of July in Tamera Mowry's husband, Adam Housley's social media where he was met with criticism for his post that day.
The 46-year-old wrote a lengthy message on Instagram on Wednesday speaking of freedom of speech and encouraging unity.
"Today is about Americans. I see my feeds and the disagreements and name calling and columns and while it annoys the crap out of me is signifies one blatant fact…freedom. As completely crazy as things seem right now, we are free to be ridiculous. Do you know how many countries in this world that is unacceptable? Most..a massive majority. Venezuela where socialism has ruined the country…nope. Our biggest rivals China and Russia…nope. Even in many EU countries…nope."
"Having said that…we must also remember that while it seems we are so divided we are not. The massive majority of us…massive…agree on about 90% of everything, yet we allow politics, politicians and outside sources emphasize the 10% at most that we do not agree. We the people need to remember one big fact on this anniversary of our independence…we are one. Before you call someone a name, or make a judgement…we are one. Before you eliminate a friend or end a relationship..we are one. Before you think you are different, or that you are in a column that no one else understands…we are one. Now…go enjoy the day and celebrate freedom. Let the positive…the 90% shine through. #thehousleys #celebratethe4thofjuly."
Responding to his post, several Black commenters expressed what they felt was the problem with the holiday which was established during an era when Black people were enslaved.
"I agree with everything you said. But I celebrated my independence on June 20th because on July 4th for many years prior my people could not celebrate the freedoms that yours could. As a fan of yours, I just hope you can understand that as well. Unlike many others, I hope you're enjoying your holiday."
"@adamhousley I agree we are all one human race I just disagree in ignoring cultural groups and one's history for the sake of all adapting to a dominate [sic] one world culture. We are all human but currently, we are not one. And it's not just a 'move on' matter. But our people have always been the same not just nowadays. The thing that's different about nowadays are laws against violence. The Fourth would not be significant for me without the [19th of June]. I see no reason to celebrate today. I also do not judge others for celebrating the Fourth. I would only hope to get the same respect in return for my choice."
Despite the backlash, Adam took the time to respond to some of the comments and wrote,
"@jessicajacqualynblog we can all celebrate both and nowadays; your people are my people and vice versa."
However, this didn't stop people from disagreeing with his opinion that the country isn't divided.
"We are a VERY divided country right now. It is necessary to acknowledge that fact"
To this, Adam replied,
"@anita0130 you didn't ingest anything I just said."
The back and forth would go on between Adam and his critics with some of the exchanges now deleted. However, more hurtful words were directed towards Adam.
"Another privileged white man telling the people who were and still are treated like s— in this country how they should feel *pretends to be shocked.* Drink your Bud Light, eat your hot dog, wave your flag and stfu."
And Adam wasn't backing down either. He responded with,
"Lol. People like you are the problem. Everything you just said is stereotypical and true of anything I do or have done. Enjoy your life in a hole. The rest of us are moving on."
While her husband was busy attending to his attackers, Tamera Mowry opted to remain mum and focus on their children. She posted a photo of Aden and Ariah playing outdoors while greeting her 5.7 million followers a "Happy 4th of July."
Please fill in your e-mail so we can share with you our top stories!