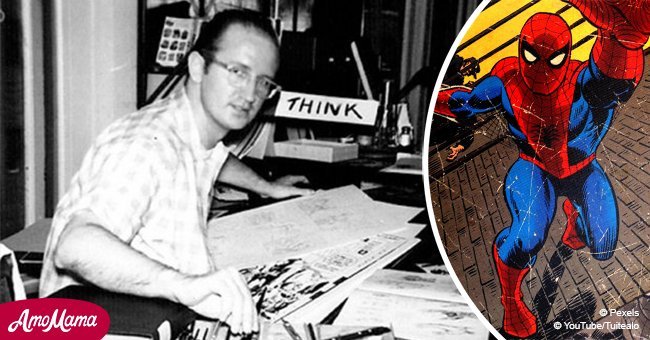 Co-creator of Spider-Man Steve Ditko dead at 90

Steve Ditko, half of the duo responsible for the creation of Spider-Man, one of the most beloved characters in the Marvel universe, has passed away at the age of 90.
The legendary comic book artist was found dead in his apartment on Friday, June 29, 2018, but it is believed that he might have died two days earlier. So far, no cause of death has been released.
According to The Hollywood Reporter, the news of his passing was shared by the New York Police Department. That day, the world lost a particularly talented individual.
Although Stan Lee is known around the world as the man behind Marvel, having created several characters such as The Hulk, Iron Man, Scarlet Witch, Black Panther and The X-Men, he had help from trusted friends.
Please consider following us on our Twitter account @amomama_usa to learn more.
Ditko was one of those people. In 1961, the late 90-year-old joined forces with Lee, the editor-chief at Marvel Comics, to create Spider-Man. In fact, a great part of the character's design was Ditko's idea, such as the suit and the web-shooters.
He had been given the assignment after Jack Kirby failed to impress Lee with his vision of a teenage boy with spider powers. The superhero made its first appearance in Amazing Fantasy No. 15 and became an unexpected hit.
But that wasn't the only character that Ditko created; he also brought villains such The Green Goblin and Doctor Octopus to life, as well as superhero Doctor Strange, which he came up with in 1963. Following a fight with Lee, the comic book artist left Marvel Comics.
It isn't known what drove Ditko to leave, but it is speculated that Lee's constant hovering and not being given the proper recognition for the creation of the characters might have motivated him to abandon the project, although this is yet to be proved.
After that, Ditko started working for Marvel's nemesis, DC Comics, as well as several independent publishers. He eventually returned to Marvel Comics in 1979, where he continued his work. In 1992, as a freelancer for the company, he created Squirrel Girl, who has grown in popularity in recent years.
Despite his immense contribution to the massive Marvel content in the today's market, Ditko has never stepped out of the shadows, refusing to give interviews and remaining reclusive until the end of his days.
Please fill in your e-mail so we can share with you our top stories!