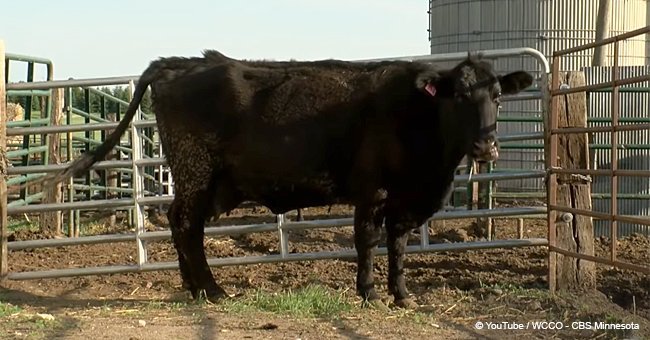 Farmer assumes cow is pregnant with one calf until the animal gives birth

In a rare, almost miraculous incident, a cow owned by the Beldo family in Minnesota gave birth to healthy quadruplets and also survived childbirth.
Quadruplets is a rare enough occurrence among the human species, but according to veterinary records, the chances of a cow having quadruplet calves in one in more than 11 million.
This exceptional birth happened for the first time in the entire farming history of the Beldo family in Minnesota.
Jamie Beldo shared the story of the incredible birth through her Facebook page. The post went viral immediately, as Jamie was reached out by farmers from all over the country, and even a few from Australia.
Beldo stated that this has been a surreal experience for their entire family.
Read more about similar miraculous births on our Twitter account @amomama_usa
During the pregnancy, Beldo's mother and experienced cattle farmer, Deb Beldo noticed that the mother was a little bigger than is expected for an average pregnant cow. She naturally assumed that they may have to expect twins.
However, early on this year in April, another cow in their farm had birthed twins, but due to a late winter storm, both the calves did not survive.
This unexpected death made Deb and husband Chuck more wary of the fate of the unborn calves. Little did they know that they were praying for four little lives instead of just two.
Where an average calf usually weighs 50-70 pounds at birth, the quadruplets weighed a mere 25 pounds each, making their health even more fragile than expected.
The family then reached out to other cattle farms in their neighborhood of Sebeka to obtain some colostrum and other after birth requirements for the calves.
Being smaller than average, the calves were not able to feed properly from their mother. This is when the entire family, including the children and grandchildren, came out to help hand feed the calves over the entire night.
It remains to be seen if the calves survive the ordeal, but as of now, all news regarding the cow's new family seems positive and hopeful.
Please fill in your e-mail so we can share with you our top stories!