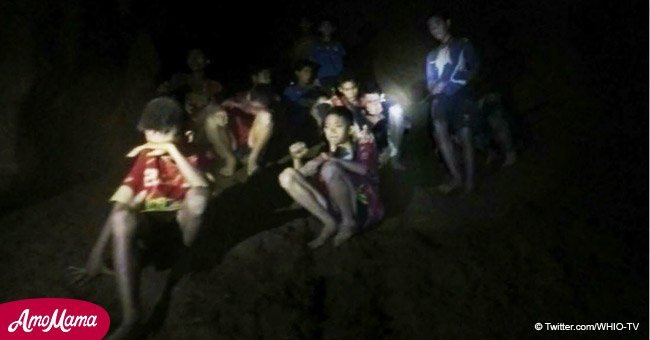 Update: More boys rescued from flooded cave as rainfall threatens setback
The intense rescue operation in Thailand continues and, so far, eight children have been safely removed from the cave but four of them, along with their coach, are still waiting for their turn.
This Monday, July 9, 2018, one of the four children saved from the Tham Luang caves, in northern Thailand, had to be transported by helicopter and ambulance to Chiang Rai Prachanukroh hospital
According to the Independent, the first boy to emerge was spotted on a stretcher, while the other three were transferred to a medical facility located on site.
Please consider following us on our Twitter account @amomama_usa to learn more.
On Sunday, another four children were rescued from the cave. Initially, the officials responsible for the operation wanted to carefully consider their options, but two factors changed their minds: possible monsoon rains and the water levels.
Intense monsoon rains were expected to hit the Chiang Rai region during the weekend and throughout the week, which forced the rescue teams to act fast and get the operation started.
The water levels were also a concern in the beginning, with water occupying the chambers of the long cave and forcing divers to swim through narrow passages to get to the soccer team.
Thankfully, it was registered that the water levels had decreased by 30 percent, allowing the rescuers to simply walk through some of the chambers and bring the children out safely.
But even so, rescuing the children isn't easy. Each boy needs to be accompanied by two professional divers who guide them through four kilometers of dark and murky waters while holding a bottle of oxygen for them.
At one point, the children are handed over to another team of specialists who help them go through the rest of the cave, this one much easier to swim through.
Although the skies have been largely clear this Monday, officials don't want to risk it and are trying their very best to get the entire soccer team, including the 25-year-old coach, out before it starts to rain heavily.
Please fill in your e-mail so we can share with you our top stories!