Joanna Gaines shares cute video of daughters cuddling sweet baby Crew
The Gaines family is adapting to life with a newborn in the home, and Crew's older siblings are eager to cuddle with their brother and dote on him.
Joanna, now a proud mother of five, shared an adorable photo of big sisters Emmie Kay and Ella spending quality time with Crew over the weekend.
The photos were shared to Joanna's Instagram Stories, which unfortunately only stays online for 24 hours. The proud mother wrote that Crew's sisters were 'taking turns.' 
The siblings can be seen swaying in a hammock in the Gaines' backyard and cuddling with their 17-day-old brother. Read more on our Twitter, @amomama_usa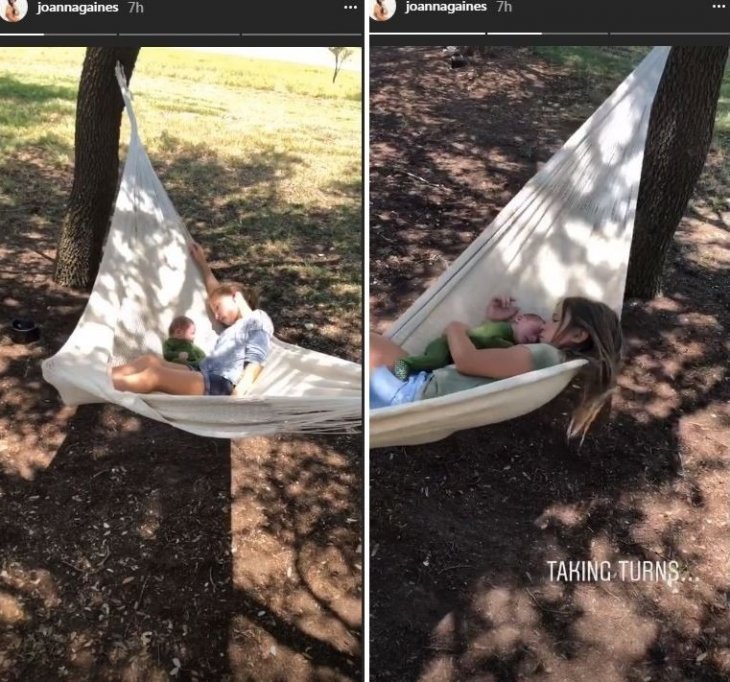 Joanna gave birth back in June, and Crew's four siblings were eager to meet him. In this photo uploaded two days after his birth, the four of them can be seen waiting outside the hospital room.
Joanna told People earlier this year that the children loved touching her belly. She was grateful that they are old enough to understand what was happening this time around, and that they are willing to help her care for him.
Chip began a tradition 13 years ago when their eldest child, Drake, was born. He didn't remove the hospital bracelet from his wrist and wore it until it fell off.
The doting father has done that everytime the couple welcomed a new child, and Joanna was proud to announce that the tradition lives on with Crew.
Looking back on Chip's tweets, eagle-eyed fans noticed that Chip gave a hint what Crew's name was before it was officially announced. When Crew was born, Chip tweeted:
'And then there were 5.. The Gaines crew is now 1 stronger! 10 beautiful toes and 10 beautiful fingers all accounted for, and big momma is doing great!'
Chip Gaines, Twitter, June 23, 2018.
Three days later, he informed his nearly 1 million Twitter followers that 'Newborns are amazing!' but added a 'sleepy tho' hashtag for good measure.