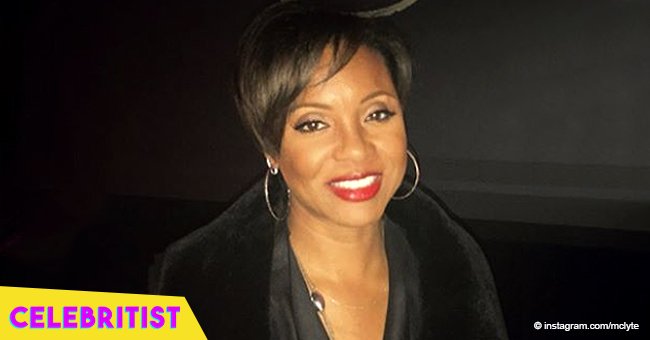 MC Lyte flashes major leg in intricately styled dress with thigh-high slit
The rapper pioneer looks stunning at age 47 as she encourages other women through her Hip Hop Sisters program, and her business mindset. She married last year and has been living on cloud nine ever since.
MC Lyte, real name Lana Michelle Moorer, is one of the female pioneers of the hip-hop industry. She first became famous back in the '80s with her album "Lyte as a Rock," the first studio album released by a solo female rapper.
With a career of almost three decades in the entertainment industry, Lyte has learned over the years to develop her own business, and to this day she has stepped out of her comfort zone by acting, starting a boutique, an entertainment firm that specializes in artist management and development, doing voiceovers and becoming a motivational speaker.
The 47-years-old beauty recently stunned fans in a photo shared to her Instagram where she's rocking an intricately printed long dress that hugged her curves and put one of her legs on display with a high-thigh slit.
She completed the look with golden heels and sunglasses and looked like a girl boss despite the rain.
Lyte was in New Orleans sharing her business knowledge with other women as part of the "2018 W.E.A.L.T.H" experience, a conference where the rapper and other ambassadors from the Hip Hop Sisters Foundation talked about Womanhood, Expansion, Assets, Leadership, Transformation and Health.
The Hip Hop Sisters Foundation, created six years ago my Lyte and Lynn Richardson, has also given opportunities to young men through their the #EducateOurMen movement, and they sent four young men to Dillard University last year. Lyte explained why they created the campaign saying:
"Simply because of what young black men are facing on a daily basis in their own communities. Being harassed and hassled, and sometimes even killed. So, we want to be able to give opportunities to young men, because once you can see a future for yourself, you can aim toward something much different. You're putting them in a position to where they can help the next person. So, it's all about giving back."
Lyte has been focusing on helping others achieve what she has already accomplished in life, and that's feeling fulfilled with joy in both her personal and professional life.
Last year, she tied the knot with Marine Corp Veteran and entrepreneur John Wyche in an intimate but beautiful ceremony at Montego Bay, Jamaica.
"Getting whisked away with all that MC Lyte is, it took me away from the reality of how important it is to have a significant other," she shared with Essence magazine earlier last year, "I would advise all the women out there that have their paper straight and not the man to start to pay attention to that."
Please fill in your e-mail so we can share with you our top stories!