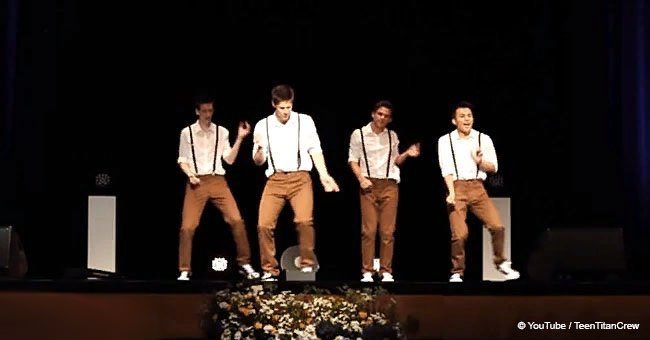 Audience goes crazy when 60's song suddenly changes and 4 teens start new dance

These 4 high school boys danced along to classics of many past decades. The way their steps quickly change to match the subsequent tracks is a must-watch.
A group of students surprised their classmates on their prom night with an amazing performance that revisited the dance moves of the 1960's, 1970's, 1980's and more.
Their dance number, that the young men named 'New Evolution of Dance' was shared by the talented performers in the Teen Titan Crew Youtube channel on July 18, 2013, and it went on to become a viral phenomenon with over 2.5 million views.
As stated in the video description, the show was part of the entertainment for the teenager's prom night, and the performance took place in Germany. Read more on our Twitter account @amomama_usa.
The great dancers wore matching outfits consisting of a pair of brown pants, white shirts, and suspenders, complete with matching black shoes. They might look like they are about to make a fashion show, but they did something more interesting.
The splendidly executed dance routine was started to the familiar opening notes of Ben E. King's classic song from 1960, Stand by Me. The track changes after 30 seconds, when it suddenly switches to Let's Twist Again by Chubby Checker.
The music keeps changing over the duration of the performance, with a number of iconic hits from different time periods coming one after the other, and the four boys showing new dance moves for each new song being played.
After going through several famous 'oldies' like James Brown's I Feel Good and the Bee Gee's Saturday Night Fever, the crew went on to perform more recent hits from the likes of Britney Spears and Beyoncé.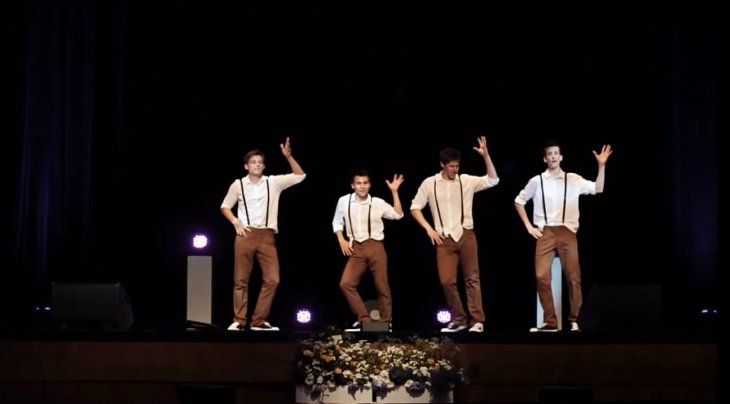 Image source: Youtube/ TeenTitanCrew
The guys ended their presentation with some the biggest hits of those days, like Carly Rae Jepsen's Call Me Maybe and K-pop catchy tune Gangnam Style, by South Korean musician Psy.
Just by looking at the smiles of these four incredible dancers, we can tell that they enjoyed every second of their stunning performance. And from what can be heard from the audience, they were also really into it.
Their classmates also groove right along with them as they were bouncing, twirling, and flipping all over the stage. A lot of YouTubers also placed their thoughts via comments in the video-sharing platform.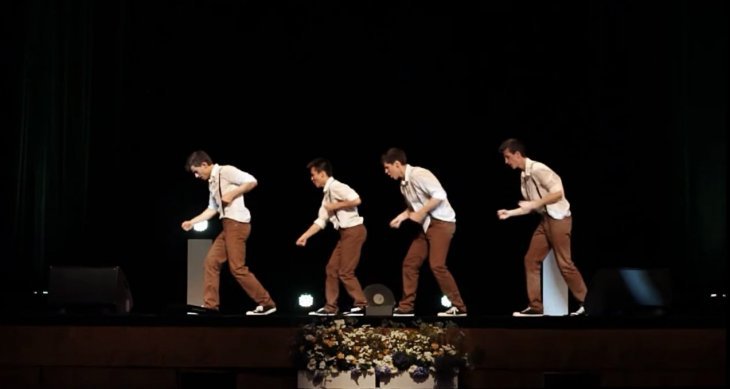 Image source: Youtube/ TeenTitanCrew
Ali B wrote: 'Great job guys. It looks like great fun and you clearly know what you're doing. Since I can't dance to save my life I'll sit back and admire instead.'
'Wow! so cool! I wish I could move like that! ' commented Irving Harrison.
The 4 teens' performance is actually a remake of a similar video called "Evolution of Dance," which was one of the first-ever viral videos on YouTube.
The "Evolution of Dance" was uploaded by dancer Jason Laipply in 2001. In that clip, Laipply performed dance styles to various songs that have come and gone in the past 5 decades.
Please fill in your e-mail so we can share with you our top stories!