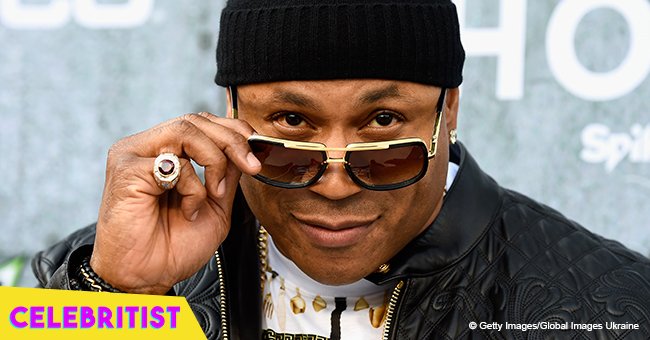 LL Cool J's wife stuns in black leather coat in recent picture with Mary J Blige

Friends Mary J Blige and Simone Smith deliver an edgy vibe in their latest photo featuring a glimpse of their exciting new business venture.
Mary J Blige and LL Cool J's wife Simone Smith have teamed up to launch a jewelry line called 'Sister Love,' and on Friday, the sisterly pair premiered their 'Queen Hoop Earrings' at the Essence Festival in New Orleans.
Clad in an all-black leather ensemble, the two New York natives showcased their bold ear accessories that stood out in gold in a predominantly black-and-white photo Mary J shared on her Instagram.
They were comfortably seated on a ledge atop a building rooftop exuding an edgy vibe in their matching outfits.
The songstress used the post to promote their new line and wrote,
"I am so proud to bring you #SisterLove, a jewelry line that represents women working together and recognizing each others strength and power. Thank you @sislovespurple for being on this journey with me. check out the Queen Hoops, available today!"
Speaking to Essence earlier this month, Simone described their collection as a symbol of "strength, edge, sassiness, and style for all women of all ages." She added,
"People can expect to see big, bold fly pieces, that can transcend into any one's own personal style."
In 2011, Simone had already created a signature collection called 'Simone Smith Jewelry.' As a fan of her friend's talent, Mary J thought of collaborating with her since they shared a mutual love of hoop earrings.
She told Essence,
"Simone also has an amazing fashion sense. I wanted to add to that by sharing some of my fashion sense and creating things I've dreamed about, and I know other women are dreaming about."
Simone couldn't agree with her friend more and said she too was a fan of Mary J.
"From Mary's music to her style, I have always been a fan."
Fans were treated to a first look at the business partners' new venture at the Essence Festival where they set up a booth at the Ernest N. Morial Convention Center.
Please fill in your e-mail so we can share with you our top stories!