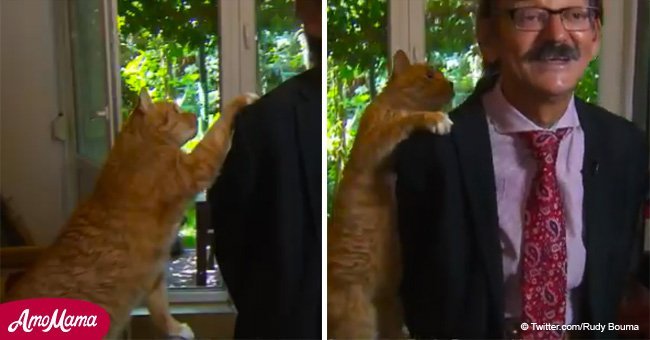 'Cat-astrophe' for political scientist as cat climbs onto his shoulders during an interview
A Polish TV commentator remained unfazed during his interview as his cat jumped on his shoulders and curled itself around his head.
The cat leaped on Jerzy Targlaski – a historian and political scientist – in the middle of his interview. After he curled itself around Targlaski's head, it just stayed there the whole time.
Targlaski was talking about Poland's Supreme Court during the interview, which was aired on Nieuwsuur, a Dutch news program.
As the cat remained on its owner's shoulders, Targlaski kept going and seemed not to care about the feline.
He just kept talking to interviewer Rudy Bouma, who shared the video of the whole thing on his Twitter page.
For more stories like this, follow us on Twitter at AmoMama USA.
There was a point during the unusual interview when the cat's tail blocked Targlaski's eyes. Slowly, the scientist just brushed it away slowly.
He did not even put the cat down. He just held its tail for it not to keep covering his face.
On Bouma's tweet, he wrote, 'Jerzy Targlaski remained completely unruffled during our interview when this happened.'
Since it was uploaded on July 7th, the video has been viewed over 700,000 times and had received more than 25,000 likes and 13,000 retweets.
Twitter users were amused with the video clip as they expressed on their replies to Bouma's tweet.
'I'm in tears of laughter and joy- love how he holds the cat's tail to one side like it's a curtain blocking his view!' wrote Twitter user, Aisha Ali-khan.
Since the interview was pre-taped, the entire "cat-astrophe" was not aired on television.
Although, a small portion of the interview was used for a segment that aired on Dutch TV channel NTR.
The channel's producers did not use a soundbite from Targlaski while his cat was on his head, but they showed a shot of the historian petting the feline.
Please fill in your e-mail so we can share with you our top stories!