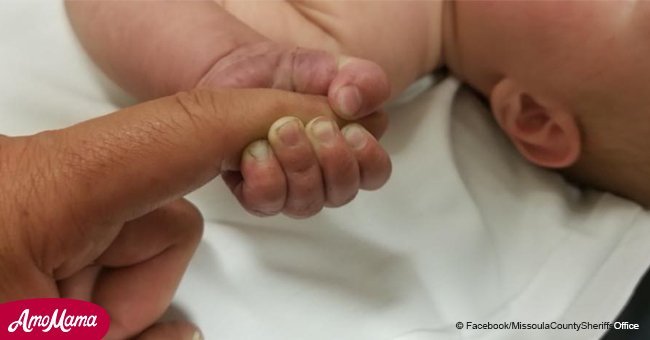 Abandoned baby was too 'heavy' to carry, father says
A Montana man abandoned a 5-month old baby after a car crash
Missoula County Deputies were called to Lolo Hot Springs, Montana, at 8:00 pm on Saturday the 7th of July 2018 on a report that a disorderly man was threatening to fire a gun.
Francis Carlton Crowley, 32, was arrested and told investigators he had been in a car crash in the woods but had left a five-month-old baby boy at the site because he was too heavy to carry, reported ABC News.com.
Crowley was incoherent, possibly due to drug use, and was unable to help officers find the baby, or even remember when the crash had occurred. He changed his story constantly, sometimes saying he had left the baby lying on the side of the road, then claiming it was dead and buried in the woods.
"Officers continued to search in the various areas where the defendant stated the baby was located, but they had difficulty given the defendant's numerous inconsistent statements about the baby's whereabouts."
Federal, state and local agencies joined the search, as did the US Forest Service Officer, Nick Scholz, who provided an all-terrain vehicle suitable for forest searches.
Scholtz and Missoula County Deputy Ross Jessop followed a forest road on which Crowley said he had traveled, then continued on a game trail where they found the car. The baby was not inside and the rescuers followed discarded items, including baby formula and a nappy bag.
Read more about the continuing investigation on our Twitter account @amomama_usa.
They found the baby under a pile of debris and sticks and dressed in a wet and soiled onesie. Miraculously, he was alive and was taken to hospital in an ambulance. During his journey, the baby coughed up small sticks.
Once in the hospital, he was treated for dehydration, malnutrition and various scratches, cuts, and bruises.
The baby has been placed in the custody of the Department of Public Health and Human Services.
Crowley is to appear in court in Missoula on charges of assault on a minor and criminal endangerment. He admitted to using methamphetamine and his bail is set at $50,000.
Crowley's relationship to the baby is unknown, and the child's mother has not been identified.
Please fill in your e-mail so we can share with you our top stories!