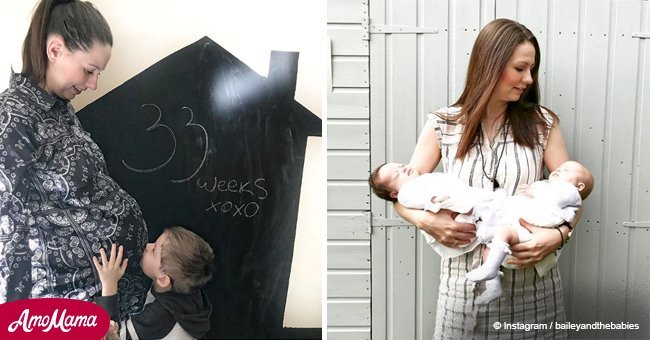 Mother gives birth to rare twins, one of whom has Down's syndrome
Nicola and Todd Bailey welcomed a rare set of twins – one of the children had Down's syndrome, which they learned only after giving birth to them.
The couple from Sheffield shared their story on Instagram on March 2, 2018, saying they would not change a thing about their newborns.
Giving birth is probably the biggest miracle on the earth's surface. For any parent, having a child is God's greatest gift. This joy and happiness doubles if one gives birth to twins.
Read more on our Twitter account @amomama_usa.
Nicola and Todd Bailey from Sheffield, are happy and proud parents too. Nicola delivered a set of one-in-a-million twin girls. While one child was born with trisomy 21, also known as Down's syndrome, the other was born without it.
According to the couple, they were taken aback as they learned of their baby girl, Harper's condition only after she was born, around 38 minutes before her twin sister, Quinn's birth.
32-year-old Nicola, who is a nurse, wants to now educate individuals about the condition that results in developmental delays and also leads to physical disabilities in children.
According to her, both of her children are different. She is adamant that she would not draw any comparisons between the two, as difficult as it may be not to.
The parents confirmed that none of the scans conducted during pregnancy indicated either of the twins had Down's syndrome. However, Nicola reiterated that she felt something was different as she grew bigger much quickly compared to her earlier pregnancy.
She anticipated an early delivery when her water broke at 32 weeks; however, timely administration of drugs was successful in stopping her contractions. She gave birth to her twins, in February, a week after her water broke.
According to them, the doctors seemed apologetic as they broke the news; however, to everyone's surprise, Nicola and Todd had no second thoughts about accepting both their children.
They are happy and said that their daughters were perfect. They would not want to change their perfect family for anything in the world.
Please fill in your e-mail so we can share with you our top stories!