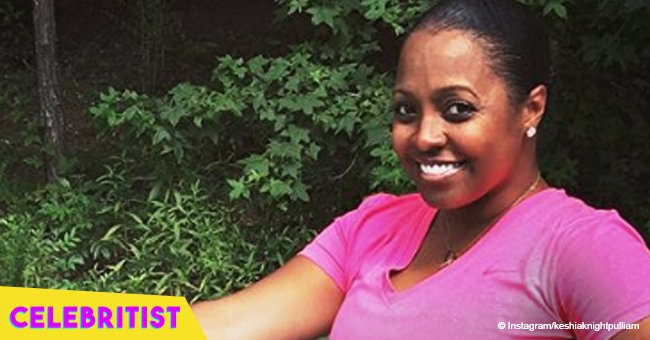 Keshia K. Pulliam shares photo of growing daughter stretching up at the airport window
The actress, who is best known for her role on The Cosby Show when she was still just a child, is now a proud mother who regularly shares updates on her little girl.
Keshia Knight Pulliam, known for her childhood role as Rudy Huxtable on The Cosby Show, won custody of the baby girl a few months ago following a bitter custody battle with the girl's father and her ex-husband, Ed Hartwell, and she couldn't be happier about it.
While she's happy to share plenty of photos of the little girl to show her off, she also wants to afford her daughter the privacy that so many celebrities' children don't get today, so she always hides her daughter's face in images.
She recently took to Instagram to share an adorable photo of the toddler, whose name is Ella, at an airport.
In the sweet image, Ella is standing up in the floor-to-ceiling winding staring across the runways at all the activity taking place on the tarmac between the planes and the cargo trucks.
She appears to be wearing a pale t-shirt and a pair of grey shorts with a white accent. Ella also has on a pair of pink and white sneakers.
"Mommy's little world traveler. #MommyAndEllaGrace#MomLife," the proud mom captioned the photo.
One of the few images to date where Pulliam has actually shared her daughter's face was a throwback photo shared in late June to back when Ella was still a newborn baby.
Pulliam's caption reminisced about how quickly time seemed to be moving, and how quickly she seemed to be growing.
The beautiful photo has over 42,000 likes.
The little girl is growing up fast, and her parents, Pulliam and Hartwell, were involved in a bitter divorce and custody battle for most of 2017 after the actress filed their divorce papers just seven months after they tied the knot.
Hartwell walked out on Pulliam when she was in the fourth month of her pregnancy, alleging that she had cheated on him and the child she was carrying was not his.
But when Ella was born and a DNA test was performed, it proved that Hartwell is, in fact, Ella's father, he suddenly took an interest in her life and decided he wanted custody of her.
What ensued was a custody battle that earned the former couple a number of scathing headlines and plenty of criticism from fans.
The former athlete didn't wait for the divorce proceedings to be over to move on with his love life, and he quickly made headlines when he got his former fiancé Tonya Carroll pregnant.
In May, Pulliam and Hartwell finally put an end to their legal battle. She was granted full custody of their daughter, and he was ordered to pay $3,007 dollars a month in child support with visitation rights.
Please fill in your e-mail so we can share with you our top stories!