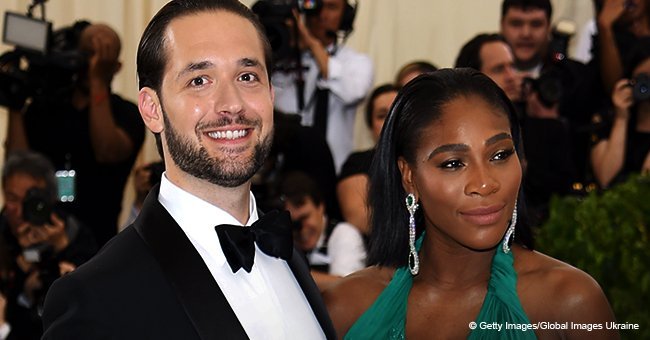 Alexis Ohanian proudly shares touching message after wife Serena Williams' remarkable achievement

Against all the odds, Serena Williams will be on the final of the Wimbledon tournament in London, and her husband, Alexis Ohanian, has been her biggest cheerleader through it all. While for fans this seems like the expected outcome, the Reddit CEO reminded everyone how great of an accomplishment this is for Serena.
She's considered the best tennis player in the world, but after giving birth to her first daughter, Alexis Olympia, ten months ago, Serena Williams faced childbirth complications that would leave her under worse conditions than she expected.
Williams had to undergo surgery twice, first an emergency C-section, and after suffering from a pulmonary embolism that caused her scar to pop open, doctors found a hematoma in her abdomen, so she had to go to the table once again for another procedure to avoid blood clothes to reaching her lungs
The process left her on bed rest for the first six weeks of motherhood and refrained her from training until late last year. When she made her big return to the tennis court in the Indian Wells, she wasn't in her best condition, and last month she had to retire from the French Open because of a pec injury.
Even though her fans have been rooting for Serena non-stop, the fact that she as unseeded and didn't have a good start after her maternity leave didn't give critics many hopes about the 33-years-old champion making it to the last straw of the Wimbledon tournament.
But Serena did it, and she did it with class. Dropping only one set in six matches, Serena has been playing powerfully through the entire competition, proving that she still has the "it" factor that made her win 23 Grand Slams in her whole career.
Her husband, Alexis Ohanian, has been there in the grades to support her every step of the way, and after Serena made it to the quarterfinals a few days ago, the man shared a sweet message with fans to remind them how far Serena has come from last year.
"Walking to the mailbox was a painful, exhausting challenge for this woman just 9 months ago. This is already nothing short of remarkable," he wrote.
Serena reinforced his message on the press conference held after the win that gave her a place in the final, saying how grateful she feels by being able to play and reach this far in the competition:
"This was not inevitable for me. I had a difficult birth, multiple surgeries; I almost didn't make it. There was a time I could barely walk to my mailbox. It's such a pleasure and a joy [to be in the final] because less than a year ago, I was going through so much."
Serena will be facing Angelique Kerber on July 14.
Please fill in your e-mail so we can share with you our top stories!