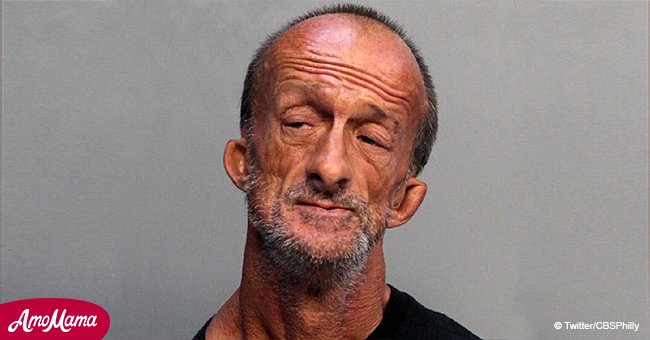 Homeless man without arms arrested for stabbing a tourist
Jonathan Crenshaw, a homeless street artist with a notable street presence in Miami, was taken into custody for stabbing a 22-year-old tourist.
Jonathan Crenshaw, a 46 year old homeless man, was arrested by the Miami Beach Police late Tuesday night, July 10, 2018. As per the report published in The Miami Herald, he was taken into custody for stabbing a tourist from out of state earlier that evening.
The police arrested Crenshaw based on the description provided by Cesar Coronado, a 22-year-old tourist from Chicago. Crenshaw has been booked for battery charges and his bail is set at $7,500.
This was not Crenshaw's first run in with the law. He has been arrested multiple times in the past for charges ranging from misdemeanors like trespassing to violent felony. In 2014, he was jailed for 180 days for battery on a police officer.
Read more about similar stories on our Twitter account @amomama_usa.
Coronado was found by the Miami Beach Police bleeding on the streets after being stabbed twice on his left arm.
He was taken to the Mount Sinai Medical Centre by a team of paramedics who arrived at the scene shortly after the incident.
Upon questioning, Coronado revealed that he and another friend were asking for directions just before the attack.
They asked what seemed to them like a homeless person, later confirmed to be Crenshaw, who suddenly got up and attacked Coronado with a pair of scissors between his feet.
The two tourists told the police that the attacker did not have any weapons barring the scissors, which he holstered back into his waistband using his feet and walked away from the scene.
Crenshaw, on the other hand, claims that he was lying down when Coronado came up and punched him on his head. He states that he stabbed back purely as a self defense measure.
Crenshaw is a regular face in the homeless community of the Miami Beach. He is famous for his abstract art, which he paints with his feet. His art is known to be sold for over $60 apiece.
Please fill in your e-mail so we can share with you our top stories!