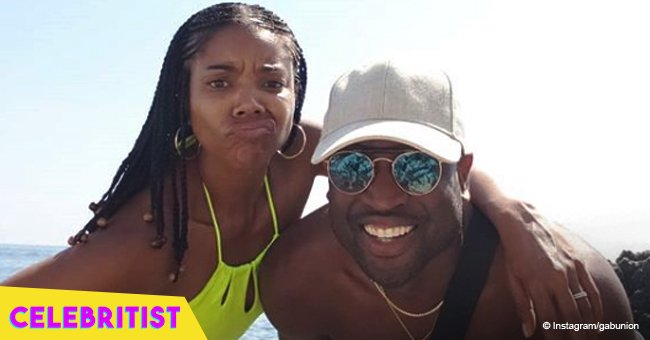 Gabrielle Union melts hearts in pic, cuddling with husband, Dwyane Wade
Nothing beats Gabrielle Union and Dwyane Wade's love for each other, and they yet again showed off just how adorable they are in a snap of them cuddling with one another.
Gabrielle Union just cannot help but smile every time she gets to be around her NBA all-star husband, Dwyane Wade. She always gushes about him in every interview, and expresses her love for him on social media every chance she gets.
In a previous article by People, she shared how Dwyane is not just her husband, but is also her best friend.
""All we do is laugh when we're together."
In 2014, Union and Wade tied the knot in front of an intimate crowd of chosen family and friends. Their guest list included their friend John Legend, who performed at the Miami ceremony.
Now, Gabrielle showed off just how close she and her husband really are, posting a snap of them cuddling with one another on Instagram. The actress is extremely invested in her relationship with Dwyane, even taking in his children as her own.
Union has three stepsons, Zaire Blessing, 14, Zion Malachi Airamis, and Xavier Zechariah, 3. Dwyane also took in his teenage nephew Dahveon, whom the actress cares for deeply as well.
Just as Celebritist recently reported, Gabrielle and her four boys all had a talk about colourism. When she asked them to show her the "hottest girls in school", they all proceeded to show her photos of fair-skinned women. She then re-phrased her question, asking them to show her the hottest black girls in their school. They all said there were none.
Shocked, Gabrielle decided to show them the Instagram of a famous black teenage model, and they all said that she was "hella fine". That then brought them to their stepmother's lecture of reminding them that girls, regardless of their color, are beautiful, and they should not be treated differently.
Please fill in your e-mail so we can share with you our top stories!