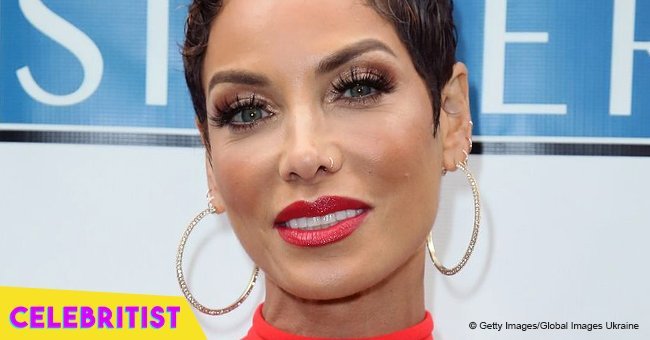 Nicole Murphy puts her curves on display in colorful swimsuit
The American fashion model, television personality, designer, actress, and businesswoman is a 50-year-old mother of five, who still manages to maintain her incredible figure.
Nicole Murphy has kept her model figure through a strict regiment of diet and exercise despite carrying and giving birth to five children. While her first didn't affect her body post-birth, she realized as she went on that they would.
The model recently took to Instagram to share a photograph of herself wearing nothing but a monokini that shows just how well she's kept her small curves.
The patterned one-piece swimsuit featured earthy tones of browns, blacks, and whites, and was tied with tiny strings around her hips, neck, and back. It also had a cut-out in the center just below her bust, held together by more strings.
"Be you. The world will adjust.... Follow my workout app www.nicolemurphyfitness.com @gansevoortturks #turksandcaicos#nicolemurphyfitness #nicolemurphy," she captioned the shot.
In the image, she was posing with her back against a wall on a white staircase, with her front knee popping out. She stared out at the view instead of looking at the camera.
In a video Murphy shared from the same day, the front of the bathing suit could be seen, showing off her ample bust that is barely covered by the tiny top of the swimwear.
She also showed off her location, with a beautiful wooden deck, a pretty outside restaurant setting, and blue waves crashing onto a beach. The location tag revealed she was at Gansevoort Turks and Caicos, in the West Indies.
The model is currently there for a fashion shoot, from which she shared a number of other teaser shots, including one in which she strolled along the beach in a beautiful maroon dress.
Murphy also revealed how she dealt with her body and keeping her figure after she had her children.
Speaking on Sway In The Morning, she shared that she was lucky after her first child that she quickly regained her figure.
"No one told me, 'Hey, it's possible that your belly will never be the same. Your body's going to look different. You might have stretch marks.' I didn't even think like that. I was blessed in the beginning. I just went back into my normal shape. And then the more kids I started having, it was like, 'Yoooo, I need to work out 'cause I'm not the same.' I could see my little faults," she explained.
She also shared that she had no intention of letting herself go just because she was married and no longer needed to impress her man.
"I always wanted to look good. So I've always been into it. I've been into eating right. Well, I do mess up, I'm not even gonna lie," she added.
Today, she tries her best to stick to a strictly healthy diet, and works out for an hour every day.
"One hour out of my day. I can even do it at home. There's no excuse," she said.
Please fill in your e-mail so we can share with you our top stories!