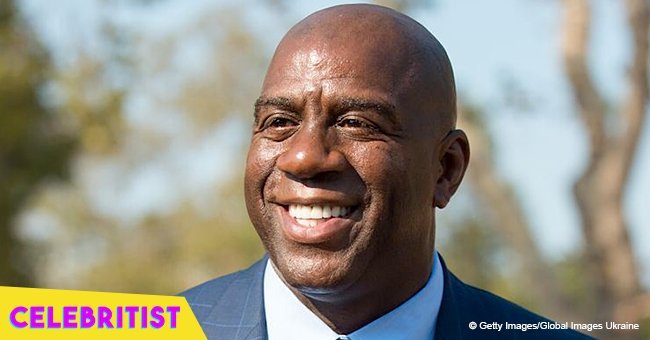 Magic Johnson's daughter flaunts her haircut after sharing photo in skimpy, leopard-print top
Following her brother's example, Elisa Johnson has started to build a career in the fashion industry. The young lady recently shared a series of clips flaunting her natural short hair and sending a message of self-love to her followers.
A few months ago, Elisa Johnson decided to cut her hair and share a picture of the final result as she embraced her natural strands. The beauty took to Instagram to write a powerful message encouraging her followers to conquer their insecurities.
"Last night, I contemplated whether or not I wanted to share my personal journey with Instagram, but then I thought what the heck! SO inspired by all the powerful women who do not let HAIR define who they are...I love the woman I am, and I encourage everyone to try and conquer their own personal insecurities, and rather than letting these insecurities define us, take the power away from them!"
However, Johnson later kept on flaunting her weaves and wigs, changing hairstyles week after week. This caused her fans to ask what happened to her initial message about embracing her natural hair, and why she was hiding it.
She just answered with a series of clips where she's, once again, rocking her natural do'.
Elisa said:
"I was getting a few messages about what I am doing with my short hair and what happened to my short hair and, I think I just wanted to clarify and also just make this message for everybody and whoever I can inspire, and that is just to remember to always do you and whatever makes you happy. Whether that's weaves, wigs, braids, short hair, long hair, bald, you know…mow hack, whatever you wanna do, do it and don't allow other people to dictate how you feel."
She also mentioned that in her case, she was worried about the "male perspective," about whether guys would like her the same if she had short hair or not. But Elisa realized that the important thing is to be true to herself no matter what, and she wants her followers to do the same.
The 23-years-old lady is the adoptive daughter of Magic and Cookie Johnson.
After having E.J, the couple decided they wanted to expand their family, but instead of risking having a biological child that would be infected with HIV, since Magic tested positive to the virus back in 1991, they decided to adopt.
The youngest of the family, a fashion business student at the Fashion Institute of Technology, moved to the East Coast with her brother after making clear her interest in the entertainment and fashion industry. She made appearances on "Rich Kids of Beverly Hills" and its spin-off, E.J's reality show "EJNYC."
Like her family, Elisa is also known for her altruistic nature.
While her father is an advocate for HIV and AIDS, her brother has become an example for gender fluid and non-conforming people, and her mother is involved with several charities. Elisa joined Cookie at the LadyLike Foundation, a Los Angeles based organization that focuses on educating and building self-esteem for underprivileged girls.
As an adopted daughter, Elisa also works with foster and adopted children: "I know what it's like to feel sometimes like you're not whole, that something's missing." she told W Magazine. "My background is different than anyone else's background, but I think it's important to share and talk."
Now that Elisa signed a modeling contract with Wilhemina Models, we can't wait to see more of her work in the fashion industry in the future.
Please fill in your e-mail so we can share with you our top stories!