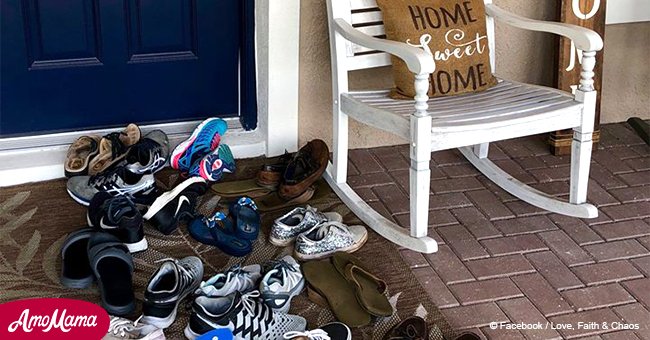 Mom's tearful message about 'shoes on the front porch' goes viral
Heather Duckworth couldn't help but feel sentimental as she saw numerous pair of shoes outside their door.
She wrote an emotional Facebook post that struck a chord in many mothers online.
In the post shared on June 21, 2018, Duckworth wrote that she came home one day after a long afternoon of running errands and saw several pairs of shoes on the front porch. She took a snap of the sight.
Follow us on our Twitter account @amomama_usa to learn more.
She quickly knew that the house was full of teenagers. No wonder because it was summer break.
"I paused outside of my door and felt a wave of sadness wash over me as I looked at these shoes... shoes from a group of kids that have been hanging out at my house for four years now," she wrote.
She then explained why the sight of the shoes saddened her.
"They say you only have 18 summers with your kids. I am on number 18 with mine. This realization tugs at my heart and makes me wonder how 18 summers went by so quickly. Big changes are happening around here - for me and all these kids in my house," she wrote.
She continued, "My heart knows it and feels it and that's why the sight of these shoes has me feeling a little sentimental. I know that after this summer, things will never be the same again. This is a bittersweet part of parenthood... this transition from having them home to watching them leave. My head knows this is a good thing, but my heart... it just hurts."
Duckworth wrote that she will miss seeing those shoes on their front porch when the teenagers start going in different directions as they head off to college come fall.
She said she might not see those shoes anymore once the teenagers go to college as they are likely to take on new adventures next summer.
"So I am going to treasure this summer of the shoes... Because I know that all too soon those shoes will be running off exploring the world... and my porch will be empty," she concluded the post.
Her Facebook post has been shared 101,000 times and has drawn 17,000 comments.
"You brought tears to my eyes for this is where I am... I only have one teenager left at home... and when he goes off to university in a couple more years the laughter, and noises of his teenage friends will be gone from our home, too," commented Lynda Clarke.
Please fill in your e-mail so we can share with you our top stories!