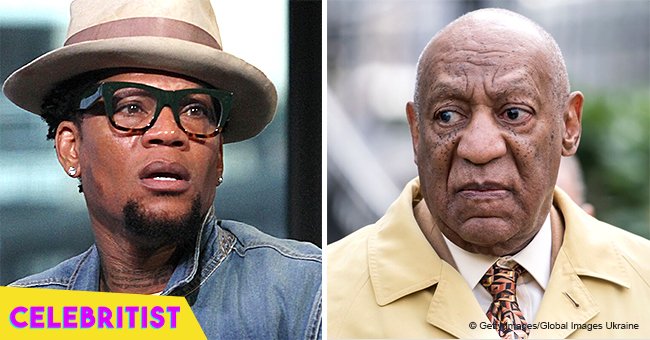 DL Hughley breaks silence on confrontation with Bill Cosby over abuse allegations

D.L. Hughley confided in Andy Cohen about things that even Andy Cohen did not expect him to be open about. On "Watch What Happens Live" last Sunday night, Hughley made a huge confession about his confrontation with Bill Cosby over rape allegations, and his thoughts on ABC firing Roseanna Barr among many other controversial topics.
During the show, Cohen plays a certain game called "Stand Up or Stand Down". In the game, Andy asked D.L. what he thought of Bill Cosby's trial, and if he thought the actor was going to jail.
Without any hesitation, Hughley said yes, and revealed that he once had a confrontation with Cosby when he was hosting a radio show. After Andy pressed him to share more details of his encounter, he gave in and explained:
"I was a specific type of comedian, and Bill Cosby had a different perspective of what comedy should be. And one time, I was hosting a radio show, and he called in to do press, and I didn't wanna to do it because I was like, 'I know we're gonna get into it.'"
Though the "Original Kings of Comedy" member acknowledged the heavy influence Cosby had on the comedy genre, he made sure to note that it does not justify his reported crimes against women.
"And so finally, he had been so rude to the people around me that I said, 'Mr. Cosby, what did you want?' He says, 'Who is this?' I say, 'This is D.L. Hughley.' He says, 'D.L. Hughley? You say the N-word.' I say, 'With all due respect, I say the N-word, but nobody wakes up with their panties on backwards.' So we had this huge [confrontation]. Like, to me, I think that he has changed comedy, I think that he was a brilliant man, but I think that you can be incredibly brilliant and a rapist. I don't think that those things are mutually exclusive, and we got into it."
After discussing his thoughts on the Bill Cosby issue, he also opened up about his personal thoughts on ABC firing Roseanne Barr after her infamous racist Twitter spree in June, calling it "disingenuous".
"Listen, I thought Roseanne should have got fired 'cause she shouldn't have got hired, but once you take that ride, let's go for the whole ride. I think bigots needs jobs, too."
Despite this thought, he reassured Cohen that he had no patience for racist excuses, telling Andy that racists often blame their words on random excuses, and it is not tolerable.
""I hate black people 'cause I took a sleeping pill." You hate black people 'cause you hate black people! I like people who make an argument and stick to it regardless of what people think of it."
Please fill in your e-mail so we can share with you our top stories!