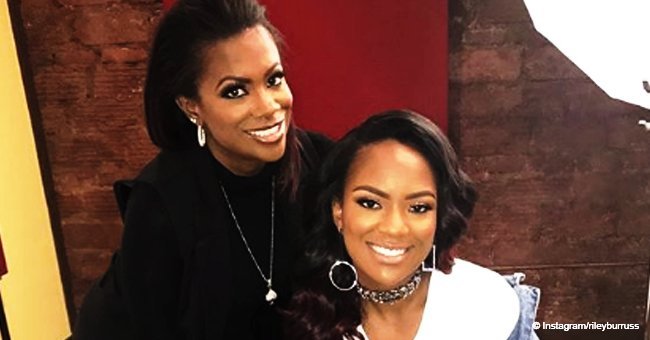 Kandi Burruss' daughter stuns in denim shorts after losing 52 pounds

Riley Burruss lost a total of 52 pounds after a rigorous fitness journey, and this has made her feel a lot more confident with her own body. Because of this new found confidence, she has made sure to wear everything that she was not so comfortable wearing before.
Showcasing her new and healthier physique, the daughter of Kandi Burruss shared a photo of her in short denim shorts while posing with her friends. While Riley looks a lot slimmer than she was before, this did not come easy. At 15-years-old, she was put under an intense fitness regimen, that needed her to exert a lot of effort in the gym on a daily basis. Her fitness coach revealed that it was not always a good day with both of them.
"All of our sessions have not always been good. We've went through all the fussing, crying, catching attitudes, and even down to her passing the hell out but still managing to lose over 50 POUNDS"
Although it was difficult for the young teenager, her hard work certainly paid off, as she went from 220 pounds to a shocking 168 pounds. Her look has completely transformed, from the shape of her face, to her waist, and to her thighs. Riley made sure to acknowledge the work put in by her fitness trainer on her Instagram, praising him for what he has helped her achieve.
After completing the first step of her fitness journey, she is enjoying her summer vacation in a way that is beneficial to her future. The incoming 11th grader and aspiring lawyer was given the opportunity to join the prestigious Stanford Envision Law and trial program, something that will make her learn more about the track she wishes to take in the near future.
"I'm so proud of my baby @rileyburruss! She's headed to the 11th grade but this summer she is at #Stanford for the #EnvisionLawAndTrial program. I was worried about her being by herself but she's doing pretty good! My #futurelawyer! She's stepping out of her shell lately."
Riley is definitely stepping out of her comfort zone and crawling out of her shell, trying to make things more beautiful in her life.
Please fill in your e-mail so we can share with you our top stories!