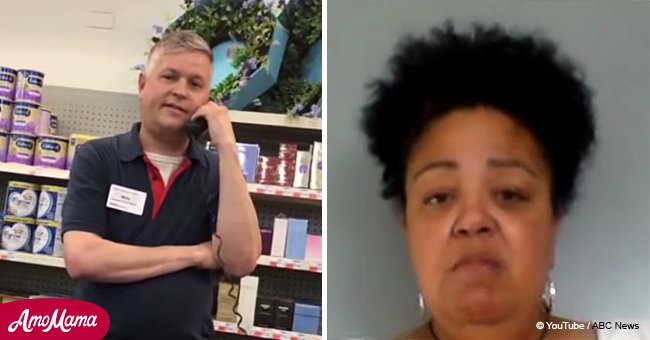 CVS manager called police on black woman trying to use coupon

According to Camilla Hudson, before the CVS manager called the police, he never even examined her coupon to see if it was authentic or not.
The video, shared by ABC News on July 15, 2018, shows the CVS manager Morry Matson calling the police on Hudson in Chicago.
Matson, dubbed 'Coupon Carl,' claimed he didn't recognize Hudson's coupon, so he decided to call authorities.
Follow us on our Twitter account @amomama_usa to learn more.
While talking to the police, Hudson was recording their conversation. In the video, Matson can be heard telling police: "It's a female."
He told the officer what Hudson was wearing, but was interrupted when she said: "Tell them I'll be here when they arrive. You can tell them her name is Camilla Hudson. I have ID and will share it."
Then, Matson, who was a delegate for Trump during his 2016 campaign, spelled her name for the police.
Before telling the police that Hudson was African-American, the CVS manager first identified himself.
Just minutes before Matson hung up the phone and went into his office, Hudson explained that she's not African-American.
In a Facebook post that has since been deleted, Hudson said she was attempting to use the CVS coupon at the store located on 6150 N. Broadway in Chicago when the police called on her.
She wrote: "I stopped in to make a purchase using a coupon mailed to me by the product manufacturer, as replacement for problematic/defective product."
"The manager [Matson] on duty said that he'd never seen a coupon like the one I had and said that he thought it was fraudulent."
Matson "became agitated and rude" when Hudson asked for his name and title.
The manager also walked away from her when she pulled out her phone to document what happened. He even slammed a door in her face.
"Meanwhile, the other manager, who'd been helping me initially, came running back to tell me that I'd better leave the store immediately, because he'd called the police," Hudson wrote.
"Of course, I had ZERO concerns about the police being called. Apparently, they'd hung up on him the first time he called, so he had to call them back a second time, telling the 911 dispatcher that I was harassing them."
She added: "Three tactical unit officers arrived and, after some conversation and documenting their names, badge numbers, etc., I eventually left the store. Needless to say, this is far from over. Life in these United States. Aargh."
According to Daily Mail, the CVS administrators contacted Hudson to apologized to her over the incident.
A CVS corporate spokesman also released a statement to Block Club Chicago, saying that the company has "begun an investigation and we will take any corrective action that is warranted to prevent it from happening again."
Please fill in your e-mail so we can share with you our top stories!