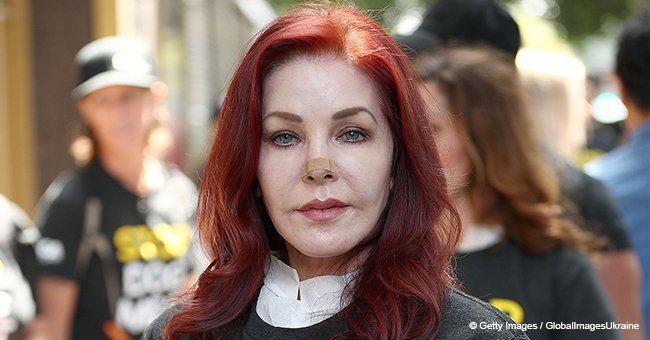 Priscilla Presley has a bandage over her nose as she holds dead dog in her hands
Priscilla Presley and Kim Basinger were some of the celebrities that were seen protesting the dog meat trade on Tuesday. They were seen outside the Consulate General of the Republic of Korea in Los Angeles.
The protest organized by Last Chance For Animals (LCA) featured protestors holding dead dogs as a shock factor. The Blast reported that in South Korea some people eat dog meat.
Priscilla Presley, 73, and Kim Basinger, 64, were seen wearing 'stop dog meat' black t-shirts at a protest on Tuesday. Presley and some other protestors even wore white gloves and white scrubs as they held dead dogs.
She sparked questions over her surgical enhancements when she was seen with a bandage across her nose. In the past, she's had surgery done which got blotched.
For more on this story go to our Twitter account @amomama_usa. Meanwhile, Basinger held a sign that showed three dead skinned dogs hanging from wires.
The sign read, 'STOP DOG MEAT' in white and orange writing. Sources close to the protest said that the dead dogs were taken from a Los Angeles veterinarian.
Their purpose was to "serve as an example of the type of lovable dogs that are killed and used for consumption in South Korea." It's said that the dogs were to be "respectfully cremated" following the protests.
'LCA and S. Korean sister organization, Animal Liberation Wave (ALW), are holding 3 demonstrations simultaneously on Tuesday, July 17, 2018 in Los Angeles, Washington D.C. and Seoul, South Korea to protest the S. Korean dog meat trade.'
LCA, Stop Dog Meat, 2018
Actresses E.G. Daily, 56, and Donna D'Errico, 50, also held dead dogs in their arms for the protest. Basinger's boyfriend and hairstylist Mitch Stone also attended the protest.
According to the Stop Dog Meat site by LCA, 'The protests are being held on Bok Nal, the first of 3 non-consecutive days, known as the hottest days of the Korean summer'
The site stated that dog meat consumption would rise immensely during this time of year in South Korea. Dog meat soup, known as 'Boshintang,' is the food of choice to combat the extreme heat and humidity.
The protest in LA was held at the Consulate General of the Republic of Korea, the one in Washington DC was held at the embassy of South Korea Washington DC, and the one in South Korea was held at the Gwanghwamun Plaza.
The Animal Welfare Institute in Washington, D.C. said South Koreans would slaughter an estimated 2 million dogs for human consumption each year. The Humane Society International estimated that 30 million dogs around the world were killed for food each year.
During the PyeongChang Winter Olympics National Geographic reported that in South Korea selling dog meat was legal. However, dog and snake meat are both officially classified as 'detestable' by the nation.
In February, Yahoo reported that the practice appeared to be declining as South Koreans came to think of dogs as pets. Gus Kenworthy, an Olympic skier, famously rescued a dog named Beemo from a South Korean meat farm during the Winter Games.
Beemo later died in the US due to a birth defect that caused her to have an enlarged heart. In May, Kenworthy announced the news via an Instagram post.
Please fill in your e-mail so we can share with you our top stories!