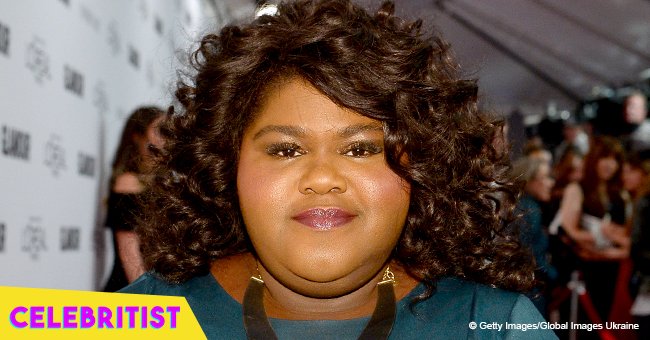 Gabby Sidibe flaunts slimmer figure twerking in mini shorts and military T-shirt in new video
The award-winning actress has lost some weight recently, and photos shared to her social media accounts have shown off her slimmer figure.
Gabourey Sidibe, best known for her role in the film Precious, took to her Instagram to share a Boomerang video of herself enjoying a fun dance next to the pool, shaking her booty and as she showed off her trimmed down body.
In the short recording, Sidibe is portrayed facing all the way around wearing tiny black shorts and a sleeveless, long, camo shirt while moving her body and swinging her long dark braids around as she danced.
"Damn. It's already July 5th and I aint thot bopped all summer!" Sidibe captioned the clip.
As soon as she uploaded that post, her fans and followers took to the comments section to praise her for all the pounds she has lost in recent months and to share their thoughts on her sexy dance moves.
One of them was Instagram user Erica Jones, who wrote: "Get it Gab!!!!!! Look how much weight she has lost!!' User Arvella Presco chimed in and said that Gabby knew how to make people laugh. She finally urged her to 'shake' what 'her mother gave her."
It was not the first time Sidibe has uploaded photos and videos showcasing her much slimmer figure. Earlier this month, the actress uploaded a picture of herself wearing a white shirt, camo pants, and a pair of grey sneakers.
Before that, she posted a photo wearing a dark red jumper that had a gold and blue pattern in the middle and the same camo pants. All those images prove that Sidibe has taken her weight-loss journey very seriously as of late.
Sidibe began her weight loss journey in May 2016, when she underwent laparoscopic bariatric surgery. The reason she did so was because had been diagnosed with Type 2 diabetes, a condition her brother Ahmed also has.
Gabby revealed that she went under the knife because she didn't want have to worry about what the disease might do to her body, and she felt that surgery was her best option to prevent it.
Since her fans learned that, they have shared their support and best wishes with Sidibe.
Despite her fans' well-wishes, the actress has stated on a number of occasions that she doesn't care for their support, because the weight loss journey is her own and has nothing to do with anyone else.
"It just annoys me because I'm just like, don't congratulate me on that. If you're going to congratulate me on my weight loss, also congratulate me every time I pee. Congratulate me every time I'm burping," said Sidibe.
Instead, when Sidibe spoke on a segment of ABC News, she explained that she felt the comments were misogynistic, as women are expected to be skinny to be attractive to the opposite sex.
"We tell women what they need to look like, and what they don't need to look like," Sidibe said. "There are plenty of like fat guys or whatever. And no one has ever written think pieces about why they need to lose weight. No one's ever going to accuse them while they were, you know, on a show promoting their film, that they're actually promoting an unhealthy diet."
"Mind your own body," she added.
Please fill in your e-mail so we can share with you our top stories!