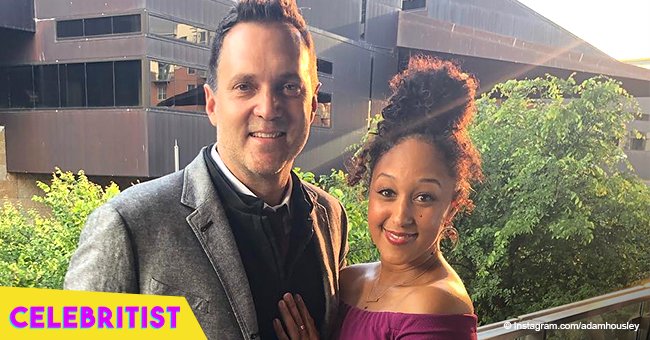 Tamera Mowry's husband shares pic of little daughter in yellow princess dress getting her first trim

Journalist and former professional baseball player Adam Housley took to Instagram to share a photo of her daughter Ariah at the salon for a haircut.
In the image, three-year-old Ariah was shown sitting on what appeared to be Tamera Mowry's lap while Shai Amiel, the stylist, was cutting her hair. The girl seemed to be very confident in her yellow princess dress while Shai was taking care of her hair.
For the caption, Adam revealed that exactly four years ago that day, their almost-six-year-old son Aden got his first haircut by the same person. After admitting it was a coincidence, the proud father said that both children were 'champs.'
As soon as he shared that photo, her fans and followers took to the comment section to share their thoughts.
One of them was Instagram user Zoe Briggs, who admitted the girl was very adorable and that she was 'daddy's little girl.' User Dandy Beeme chimed in and said that Ariah looked 'unbothered.'
That post was shared a couple of days after Tamera shared a picture portraying Ariah playing with a baby doll that she named Cairo, just like her baby cousin Cairo Tiahna.
The image portrayed Ariah wearing denim shorts, white shoes, and a white shirt while holding a baby doll. One of the most interesting aspects of the picture was that Ariah looked very adorable hugging the 'baby' as if it was real.
Tamera revealed that Ariah loved that doll very much and that she chose it over her teddy bear most of the times when she goes out.
Finally, The Real host admitted that Ariah' even named the doll after Tia Mowry's daughter, Cairo, who is two months old.
During an episode of The Real aired in 2017, Tamera pointed out that Ariah loved her uncle Tahj Mowry a lot as he was the only person in the family who doesn't get the side-eye from her.
Tahj admitted that he and Ariah look very alike, so she probably thinks she has to be gentle with him.
Please fill in your e-mail so we can share with you our top stories!