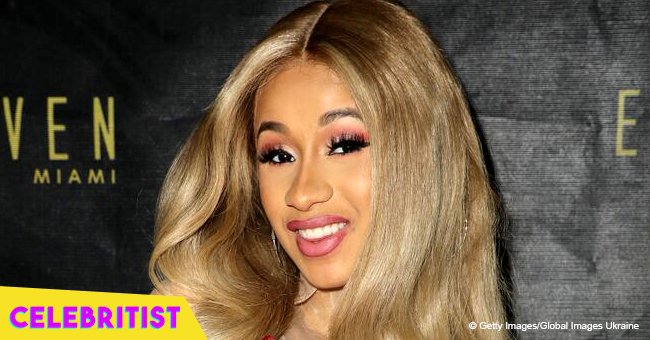 Cardi B shows off newborn daughter's gilded baby crib complete with a crown
The "Bodak Yellow" rapper gave birth to her first daughter with husband Offset on July 10, and the baby is sleeping like a real princess. Cardi shared a video with followers showing off the gorgeous crib she got from a fellow rapper friend.
Cardi B became a mom for the first time only nine days ago, and while she assured fans that she and the baby are doing good, the rapper has also been very honest about how tiresome motherhood can be.
Baby Kulture has been getting lots of gifts from family and friends, and while Cardi was particularly excited about some Chipotle coupons she got, one of the unique gifts has to be the beautiful ornamental crib she received.
In a video shared to her Instagram, the 25-years-old showed off a beautiful white and gold round piece adorned with white tulle, a gold crown on top and a white and gold polka dot mattress. Kapesh Designs made the customized crib by request of rapper PreMadonna, who's a friend of the couple.
"I didn't want to set the crib up until we moved to our official home but Offset set it up while I was in the hospital and it's just so gorgeous," said the new mom of her hands-on husband.
Cardi also received a matching bassinet, which she also showed in the video while whispering that her baby was sleeping.
On Tuesday, the Grammy Award-nominated rapper opened about her first days as a mom, as she expressed her gratitude for her family, especially her mom and sister, for not leaving her side after baby Kulture was born. She said:
"I'm a very blessed person. I know y'all see all the blessings that God be giving me in my life, but one thing is that I've been blessed since birth. I've been blessed since I came out of my mom's vagina because of my parents. Those are my biggest blessings, and I'm so thankful, and I'm so grateful for them."
Cardi also explained that her father had been a great help these days running errands for her around New York as she wants to stay by her baby's side while learning how to be a mom.
"I have not gotten a nanny yet," she added.
"I just want to learn how to be a mom. I want to enjoy every single second of it since I'm going back to work."
We're glad to know that Cardi B is enjoying being a mom and we can't wait to meet baby Kulture.
Please fill in your e-mail so we can share with you our top stories!