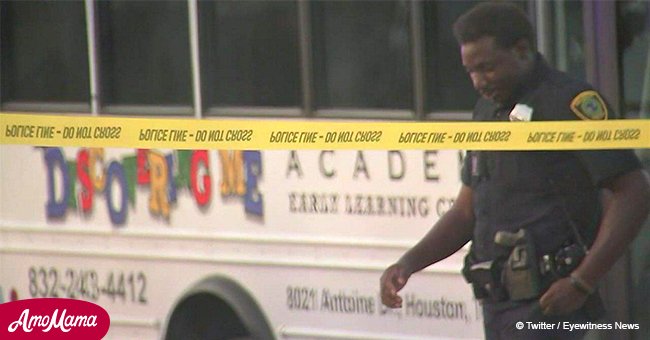 3-year-old dies after being left for hours in hot daycare van
A 3-year-old boy was found dead in a bus outside his daycare in northwest Houston after he was apparently left in there following a field trip.
Harris County Precinct 1 Constable Alan Rosen says the small bus with 28 kids returned from a field trip around 3 p.m. Constable Rosen says it wasn't until the child's father arrived to pick up his son at 6:30 p.m that workers started to look for the boy.
They searched the inside of the daycare and finally went into the parking lot to search the bus where they found the child unresponsive inside. The boy was taken to Houston Methodist Willowbrook Hospital where he was pronounced dead.
According to an ABC-13 report, deputies say the temperature inside the bus was registered at 113 degrees by their heat guns when they first arrived. To learn more follow us on Twitter @amomama_usa.
Investigators believe the child was left inside the bus for at least three and a half hours. The boy was transported to the hospital and pronounced dead at 7:45 p.m.
Records show the boy had been listed as accounted for on a list of students compiled upon a return to the daycare. Then he probably fell asleep during the 12-minute drive to the Discovering Me Academy.
Police are looking into the actions of the two day-care workers and the facility as part of their investigation; they are interviewing the driver of the bus and a chaperone who was on the field trip.
The Houston Police Department and the Harris County District Attorney's Office will continue to investigate the tragic case before they make a decision of whether to file criminal charges or not.
ABC-13 reported that records show the daycare was cited for several violations in 2015 about the van, including one for not having an electronic child safety alarm used to notify a driver that a child was left in the vehicle.
Rosen warned those responsible for children to be careful in the searing heat of the Houston summer and make sure that vehicles are completely empty before leaving them.
In the US, hot car deaths are a consistent problem. An average of 37 children dies each year from being left in hot cars, according to the safety organization Kids and Cars.
Please fill in your e-mail so we can share with you our top stories!