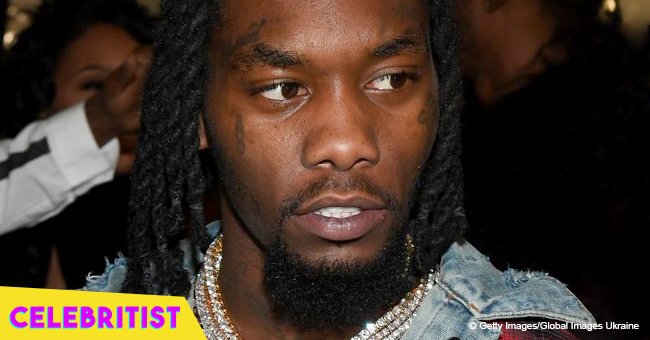 Cardi B shares picture with husband Offset following his arrest
Cardi B celebrates her husband's homecoming from jail with a short clip after his release. She also set the record straight regarding his arrest with a statement on her Instagram Story.
One day after her baby daddy's arrest, Cardi B reunites with Offset and shares a boomerang of his homecoming.
"Home" was the single word Cardi used to accompany her Instagram Story clip celebrating Offset's release from jail after his arraignment on Saturday. The singer sat on a chair as her husband stood over her in a pair of yellow pants clearly happy he's back.
Cardi also took the opportunity to set things straight regarding Offset's arrest and wrote in a separate clip,
"For the record Offset is NOT ON PROBATION."
She accompanied the text with an unamused emoji and an eye-rolling one.
On Friday, the 26-year-old rapper who's already a convicted felon was arrested in Jonesboro Georgia after he was pulled over in his 2014 Porsche 911 Carrera when he was spotted changing lanes illegally. When police officers approached his vehicle, they noticed the smell of marijuana and started to conduct a search which revealed three handguns, less than an ounce of marijuana and over $107,000 in cash.
The singer was immediately charged with possession of marijuana and possession of a weapon by a convicted felon as well as possession of a weapon while committing another crime – improper lane change. He was detained at the Clayton County Jail on bond which was posted by his lawyer Drew Findling.
Speaking for his client, Findling revealed Offset's concerns over his wife and their newborn daughter Kulture Kiari.
"He is concerned, very concerned, about [Cardi B]. Of course, his new baby is his top priority as well as his other children."
He also insisted the Migos singer was not guilty of any crime stating,
"He did not commit any traffic offense and he certainly was not in possession of any weapons. This was an improper arrest and I believe in his innocence."
"[Offset's] holding up as best he can considering the circumstances and knows he has not broken any laws. He is going to have his day in court."
Offset's arrest comes 10 days after he welcomed his baby with Cardi on July 10. Kulture is Offset's fourth child and Cardi's first. The couple secretly tied the knot in September and only confirmed the news in June revealing their daughter wasn't conceived out of wedlock.
Please fill in your e-mail so we can share with you our top stories!