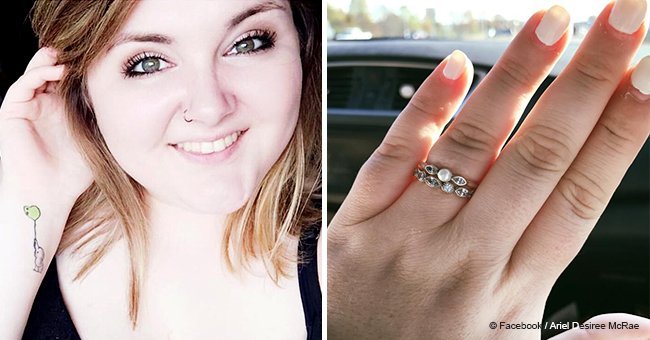 Woman had the best response to jeweler who called her engagement ring pathetic

Ring shaming is what Ariel Desiree McRae experienced by a Pandora store employee when she and her fiancé, Quinn McRae, bought $130 rings for their wedding.
22-year-old Ariel shared the ordeal on her Facebook page on November 27, 2016.
Ariel mentioned that her would-be husband was not a man of many means; they together work hard to ensure bills were paid and there was food for them. However, after dating for almost two years, they decided to finally get married.
She knew that rings could be expensive and was not really thinking about them. What was important was the fact that she wanted to get married to her best friend; her partner, however, disagreed.
Read more on our Twitter account @amomama_usa
He saved adequate money to purchase two matching rings from Pandora – sterling silver and CZ to be precise.
They were excited when they went to purchase the rings. A saleslady working at the shop, came ahead to help her colleague selling the piece of jewelry to the couple.
She told them that she was surprised a few men had the heart to purchase silver rings. In her opinion, it was a sad excuse.
"Y'all can you believe that some men get these as engagement rings? How pathetic," she said.
As the woman expressed her thoughts, Ariel saw a look of disappointment across her partner's face. He was already upset that he was not able to purchase the pear-shaped set that Ariel had really liked and that was all over her Pinterest page.
According to Ariel, her partner had already felt he was a failure and repeatedly asked her if she was going to be happy with the cheaper rings. He even told her to drop the idea of getting married as the rings were not very flashy and were inexpensive.
Rather than getting upset, or shouting back, she handled her insult with immense dignity. She replied that the ring itself was not all that important but the love that went into purchasing it.
'It isn't the ring that matters, it is the love that goes into buying one that matters.'
Ariel Desiree McRae, Facebook, November 27, 2016.
Ariel mentioned that she would have agreed to get married to her partner even if he had given her a 25¢ gumball machine ring.
She wondered why people had begun to consider that love between a man and woman is true only if he purchased her a ring which costs $3,000 or more; or if they publicly displayed their emotions with their flashy rings.
Ariel said that while she did not want to demean the experiences or emotions of anyone else, she still questioned why love was considered to be measured by the cost and ownership of material goods.
Quinn was afraid Ariel would not marry him because he had no means to provide her with even a single piece of jewelry.
He was scared that her love for him would reduce since he was unable to give her the wedding set she desired.
Ariel mentioned she was happy with her $130 set of rings, being married in a courthouse with the love of her life besides her and happy as ever.
Daily Mail reported that the couple tied the knot at a Tennessee courthouse and Ariel wore a $30 dress.
When the post went viral, Pandora contacted Ariel and apologized for the distressing experience she had at their store. The student said, "Pandora has reached out to me and offered me their sincerest apologies and I accepted."
The company also asked for the name of the store and the employee who served the couple, but Ariel declined to name anyone because she did not want the person to get fired.
Pandora then offered to send Ariel a bracelet to make up for the unpleasant experience.
Please fill in your e-mail so we can share with you our top stories!