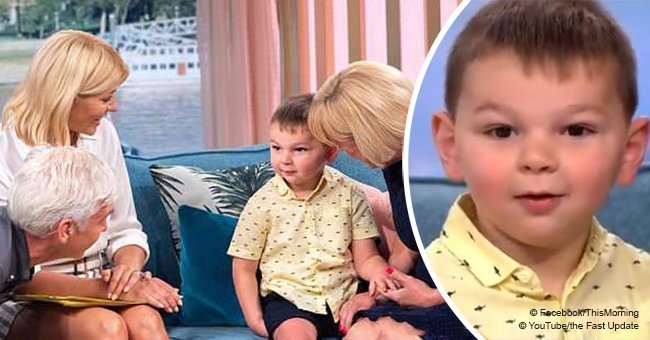 Little boy who lost his legs after abuse by biological parents appears on 'Morning' show

3-year-old Tony appeared on the Morning show and moved the audience to tears
Tiny Tony has had a hard start in life, but his smile and his happy disposition are a marvel to anyone who knows his story, and the audience of the Morning Show was won over by his charm as he talked about how much he loved the Peppa Pig cartoons.
When Tony was 41 days old, he was admitted to the hospital with multiple-organ failure and sepsis, and he ended up losing both his legs.
The damage to his legs that made the amputation imperative was caused by fractures resulting from the baby being swung around while being held by his ankles.
Tony was removed from his biological parent's care and he was adopted by Paula and Mark Hogell.
The Hogells agreed to shelter Tony and were told by the child welfare officials that Tony's limbs were broken, but they believed that his broken bones would mend in time.
When he became very ill, they took him to the hospital, where the doctors told them that Tony was seconds away from death. They rated his chances of survival as slim to none.
But Tony is a fighter and the Hogells didn't leave his side throughout the long battle.
Read more heartwarming stories on our Twitter account @amomama_usa.
To the Hogell's distress he was frequently visited by his birth parents, Tony Smith, 47, and Jody Simpson, 24, who claimed that the baby's injuries were accidental and declared that they intended to fight for their son's custody.
The police had closed Tony's case due to lack of evidence, but Paula and Mark Hogell petitioned their Member of Parliament and their police commissioner to reopen the investigation.
The new investigation led to the arrest of Smith and Simpson in February 2018, and the two were subsequently sentenced to 10 years in jail for child abuse
The Morning show offered Tony and the Hogells a trip to Peppa Pig World. The theme park is in at Paulton's Park in England and is based on Tony's favorite animated character Peppa Pig.
Tony was delighted with his unexpected present and fascinated with the set, the bright lights, and the cameras. After all that he has been through, he is a happy and energetic toddler, like any other.
Paula and Mark already had seven children together before they adopted Tony, and now they finally feel their family is complete.
Please fill in your e-mail so we can share with you our top stories!