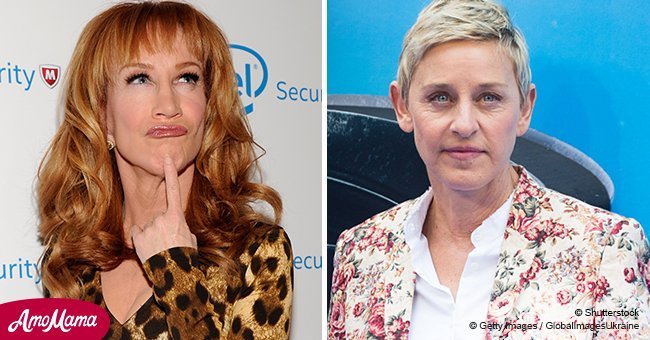 Variety: Ellen DeGeneres and Kathy Griffin feud takes new twist

Griffin called Degeneres an 'untalented hack' after the talk show host refused to pay a tribute to beloved comedienne Joan Rivers.
Stand-up artist Kathy Griffin's relationship with Ellen Degeneres is said to have taken an ugly turn rooted in the legacy of the iconic comedy star Joan Rivers.
While touring in LA for her latest stand-up routine, Variety reported on Griffin's most recent fight with Degeneres. Griffin revealed that Rivers, her longtime friend, had never gotten along with Degeneres, and was regretful of the fact just before she passed away.
Griffin added that Rivers felt ignored and cast away by Degeneres, and saddened that the celebrity host considered her to be vulgar in her comedy.
After Rivers' death, Griffin reportedly reached out to Degeneres, asking her to let go of the hatred and pay a tribute to the star.
Read more about Kathy Griffin on our Twitter account @amomama_usa.
However, as per Griffin, the fellow-comedienne did not comply, stating that there was a difference between being funny and being mean, and she found Rivers to be mean.
This apparently triggered Griffin, who went on to abuse Degeneres, calling her an 'untalented hack.' Griffin hastens to add that she did try to make amends over their verbal tiff a few days later, but Degeneres did not respond.
Kathy Griffin has turned heads all through her career, with outspoken jibes at anyone, and a no holds barred approach to the political scene in the country.
In her recent Laugh Your Head Off world tour, the comedienne performs a three-hour set. It is one of her biggest tours to date and has dates all over the world. The content she enacts on her tour recently has garnered her a lot of attention.
The tour is Griffin's comeback after being fired from her existing job at NBC, being blacklisted and put in the no-fly list. The backlash was a result of a controversial photo of Griffin holding a severed head resembling that of President Donald Trump.
With her current show, however, Griffin aims to put the troubling incidents of the past behind her and start afresh. A lot of her content also jokes about her negative experiences, putting a funny spin into the whole ordeal.
Please fill in your e-mail so we can share with you our top stories!