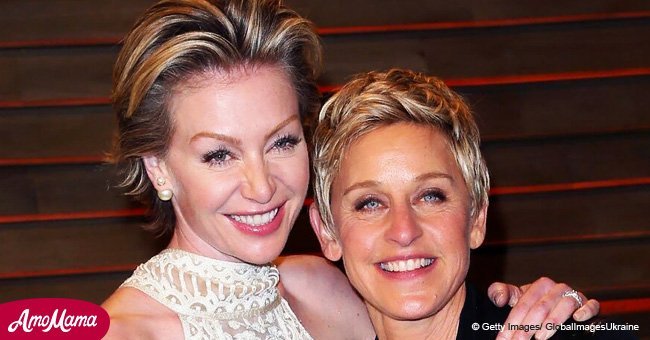 Portia had serious reservations regarding wife Ellen DeGeneres' plans
The actress opened up about her first thoughts on Ellen DeGeneres' decision to return to stand-up comedy.
Ellen DeGeneres has made a mark in the entertainment business as a multi-faceted personality – whether it was as a stand-up comedienne, an actress or a television show host.
However, when DeGeneres was toying with the idea of returning to stand-up, her wife Portia de Rossi was not sure it was for the best.
Speaking to People, de Rossi revealed that she initially tried to dissuade her wife from the idea, since she believed that it would hamper her stronghold as a full-time host.
De Rossi spoke up about her inhibitions at the recent event in West Hollywood involving her art digitization company GENERAL PUBLIC. Read more about on our Twitter account @amomama_usa.
The actress shared that she was concerned about DeGeneres' decision since she was extremely busy running her TV show and that she would not have enough time to come up with 60 minutes of new material for a stand-up special.
The 45-year-old Scandal star had suggested that her wife return to comedy after her talk show project concluded. However, DeGeneres was too passionate about stand-up to give up the idea.
De Rossi pointed out that this stubbornness was something that the two women had in common. And looking back at her reservations, she admitted that she was wrong.
Speaking of DeGeneres' stand-up special performance, de Rossi stated that she had done an amazing job, and it was the first time that de Rossi got to see the beloved comedienne live in action on a stand-up set.
In de Rossi's view, returning to stand-up has filled the talk show host with new energy. Her previous special had been out in 2003, titled Here and Now, including shows which were performed across different cities.
De Rossi also shared that DeGeneres was equally supportive of her decision to retire from acting and pursue her love for art as her mainstream career.
Please fill in your e-mail so we can share with you our top stories!