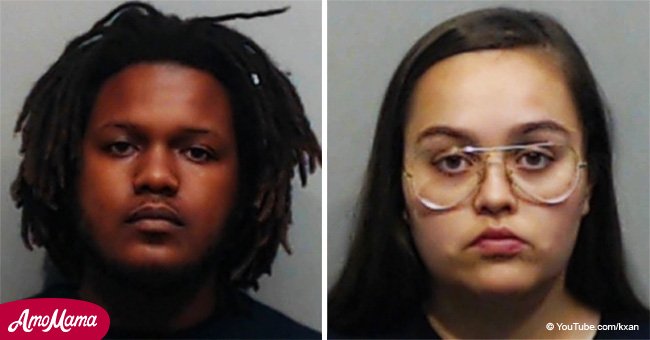 Parents blame the death of 2-year-old on 'demons, evil'
The parents of a toddler found dead has been charged with the 2-year-old's capital murder, according to jail records.
Stevie Dwayne Williams and Dazrine Ruth Chagoya-Williams were arrested Monday, July 23, and charged with capital murder of a person under 10 and injury to a child, after the boy, just 21 months old, was found unresponsive in the couple's home.
Police responded to a call on July 4 at the 300 block of Marquitos Drive in Kyle, Texas, from Williams and Chagoya-Williams who said their son had stopped breathing, as KXAN reported.
Officers who responded to a call at the family's home found the toddler unresponsive in a hallway with bruising all over his body. The mother's only explanation was 'Something (not someone) attacked him,' police wrote in the affidavit.
According to the police report, the mother went on to say that 'something not worldly' hurt the boy, explaining that it could be 'demons' or 'evil.' Read more on our Twitter account @amomama_usa
Court documents said the dead child had suffered 20 separate fractures, which included a skull fracture and multiple rib fractures, and also a lacerated kidney.
"Officers observed visible injuries on the victim's body, including bruising on his left and right rib area, bruising on his back and bruising on his forehead," Kyle Police Chief Jeff Barnett said.
Child Protective Services has had previous encounters with the family, involving allegations of harm done to their son. According to the affidavit, the boy sustained rib fractures and had burns on his "foot, leg and genitals from hot water."
The boy was removed at that time from his parents' care for almost a year and was returned to them less than six months ago. CPS monitored the family for the following three months but then stopped.
Officers noticed that the parents' youngest child, an infant girl, was also injured, police said. Williams and Chagoya-Williams were also charged with injury to a child as a result, and authorities removed the girl from their home, police said.
The arrested couple was booked at Hays County Jail with individual bonds set at $250,000 apiece. The children's grandmother told KXAN she saw them several times a week and never noticed strange injuries to either child.
Please fill in your e-mail so we can share with you our top stories!