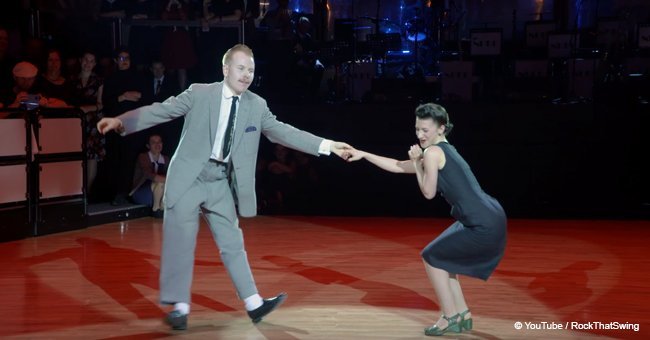 Couple steal the show with their magnificent 'Dirty Dancing' swing routine
Dance artists Nils Andren and Bianca Locatelli presented a stunning swing dance routine during the Rock That Swing Festival 2018.
A
video clip
of their performance at the Deutsches Theater in Munich on February 11, 2018, was uploaded on YouTube, and it showed exactly why people still enjoy this form of dance even after so many years.
Anyone watching the video will be hooked as the two artists show flawless movement and synchronization in their choreography.
That fact that they are passionate about dancing and are completely enjoying their routine comes off in the performance.
Follow us on Twitter to learn more.
In an interview on Groovy Moves, the two artists opened up about their journey and their love for dancing.
Locatelli has been dancing since she was six years of age. She has experimented with various dance forms including ballet dancing and street dancing before making swing her specialty.
However, Andren only came to professional dancing when he was a bit older. He stated that he took up dancing after trying a few other things.
"I tried ice hockey, it's not my thing. I tried soccer, not my thing … I tried a lot of things," he told in the video.
While he was still exploring his options, a dance teacher came to his school and got him interested in entering a dance competition. Andren practiced and learned and eventually won the competition.
In 2013, the two artists came together when Locatelli moved to Sweden and they have continued to entertain the world with their duet performances ever since
The swing that they performed in Rock That Swing 2018 has earned them more followers and loyal fan base.
Set to the tune of Hey! Baby, a hit song from Margaret Cobb and Bruce Channel, the dance sketch is truly one of the best swing performances of all time.
The video has so far gathered over 1 million views and has been liked over 10,000 times.
Please fill in your e-mail so we can share with you our top stories!