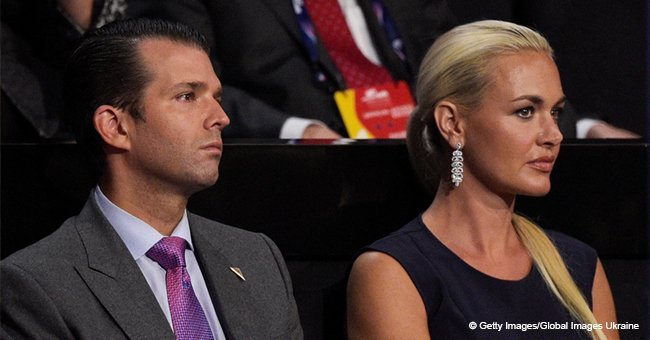 After 12 years of marriage, Donald Trump Jr. and wife appear in court for divorce

The oldest child of the president is set to divorce his wife, and after months have passed since the initial talk of a split, they are finally appearing in court.
US President Donald Trump's eldest son Donald Trump Jr.'s wife Vannesa Trump filed for divorce back in March 2018, and the couple faced off in court on Thrusday, July 26, in a hearing for their divorce.
The couple had been married for 12 years at the time Vanessa filed, and have five children together. They released a joint statement at the time.
"After 12 years of marriage, we have decided to go our separate ways," the duo said to E! News. "We will always have tremendous respect for each other and our families. We have five beautiful children together and they remain our top priority. We ask for your privacy during this time"
Vanessa originally filed for an uncontested proceeding, but what was previously uncontested seems now to have become contested.
The couple were praised by Judge Michael Katz when they appeared in court, for working out the custody of their children without causing a massive scene that would make the proceedings difficult for everyone involved.
"I very much would like to commend both of you for working out whatever differences you may have had regarding those issues and committing to co-parenting with each other," Katz told the exes, according to Page Six. "You have prioritized your children and taken steps to shield them from what could have been an invasive litigation process. Not everyone is able to do that."
The couple seems to also have agreed to most of the financial arrangements as well, with just a few small details to hash out. Their first court appearance lasted just 10 minutes.
According to USA Today, Vanessa and Donald Jr. were completely relaxed during the proceedings, smiling at one another from time to time.
Despite their pending divorce, the couple have still made appearances since Vanessa filed, attending the annual White House Easter Egg Roll celebration in Washington, D.C. together with their children.
Please fill in your e-mail so we can share with you our top stories!