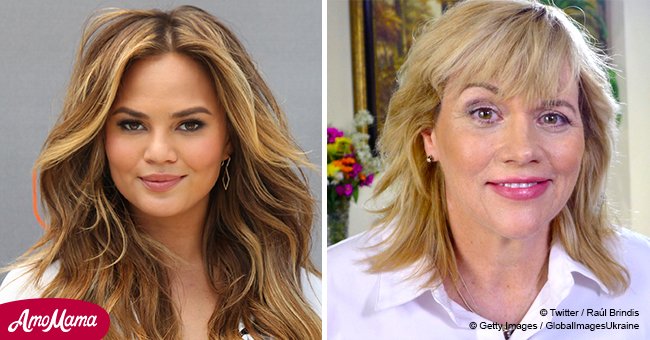 Meghan Markle's sister just attacked Chrissy Teigen calling her a 'pudgy airhead'
On Saturday, Chrissy Teigen responded to an interview that Duchess Meghan's father recent did. In the 9-hour interview, Thomas Markle lashed out at the Duchess of Sussex.
The following day, Meghan's half-sister, Samantha Grant Markle, attacked Teigen on Twitter for speaking ill of her father. Markle chose to insult the star as a comeback.
Thomas Markle recently had a 9-hour interview with The Daily Mail. There he berated his daughter for cutting him off and claimed she wouldn't be a Duchess if it wasn't for him.
Finding the bashing unnecessary, Chrissy Teigen, John Legend's wife; television host and cookbook authoress, took to Twitter to address Meghan's father. She wrote, 'this guy...this guy sucks. what is wrong with him? let your daughter be happy, please. this is embarrassing.'
For more on this story go to our Twitter account @amomama_usa. Meghan's half-sister Samantha Grant Markle found offense in the tweet and retaliated.
Her response was harsh and meant to hurt. She wrote, 'So this pudgy airhead @Christinetiegen Who knows nobody in the family is opening her pie hole? 'This guy' is our father and deserves a lot of respect,.. you are the one who sucks.'
Samantha's Twitter account is closed and only people she adds can see her posts. She's always supported her father, especially against Meghan.
Samantha once admitted that she was to blame for Thomas' staged photos in the run-up of Prince Harry and Markle's Royal wedding. She said her reason for making him do the shoot was to try and make him come off in a better light.
'We had no idea he would be taken advantage of. It was not for money @KensingtonRoyal,' Samantha wrote addressing the Royal Family.
So far, Teigen hasn't responded to Samantha.
Please fill in your e-mail so we can share with you our top stories!