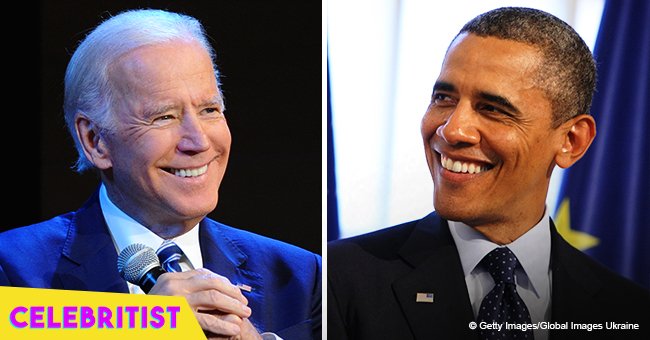 Barack Obama and Joe Biden reunite for lunch at a DC bakery

It seemed like the bromance between former President Barack Obama and Vice President Joe Biden was over when they stepped down from office a few years back, but after photos emerged of them reuniting for lunch at a D.C. bakery, the internet went crazy.
Before they were political allies, they were longtime friends, and the friendship between Barack and Joe extends outside of politics. The two were spotted out together in Washington D.C. last Monday, grabbing a bite to eat at a Dog Tag Bakery in Georgetown.
According to People, the best friends have moved past consulting one another on domestic policies and political strategies, and are now consulting one another as to what they should have for lunch. The publication shared that while Biden was asking a waiter for Mustard, his good old pal asked him what he got.
"I've got one of these, what are they called, ham and cheese."
Of course, Barack has always trusted Joe's taste, and he decided to get a meal exactly like his friend did.
"I think I'm gonna have one of those too."
It seems Joe Biden was the one who paid for their bill, as he restated POTUS' order before handing out the cash that he was holding.
Their choice of bakery was a good one, as it is a popular D.C. food stop. However, it is unique in a way as it supports service-disabled veterans, military spouses, and caregivers as they try and re-enter civilian life. According to the Dog Tag Bakery website, they run a five-month program that allows fellows to earn a "certificate in Business Administration" at the Georgetown University School of Continuing Studies, participate in professional workshops and wellness programs, and of course, acquire work experience at the bakery.
It's no wonder these two decided to drop by for lunch, as this bakery seems to be doing a lot of good for others, especially those who have served the country and have sacrificed so much for the American people. This is the kind of good that people need to see in the world nowadays, and it's great to see former political leaders engaging the public in such a cause.
Please fill in your e-mail so we can share with you our top stories!