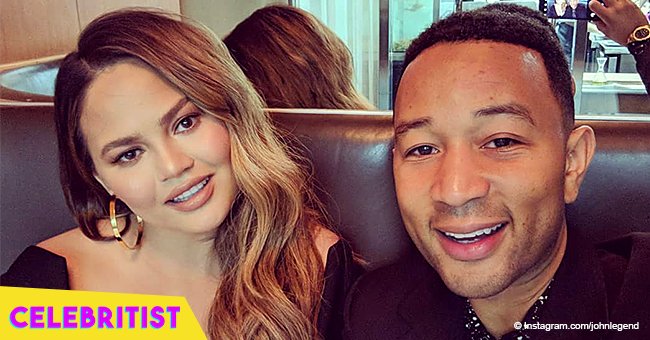 John Legend's wife Chrissy Teigen shares pic of post-pregnancy 'mom bod' revealing stretch marks
Chrissy Teigen always keeps it real on social media. She is perhaps one of the most honest celebrities out there, and after giving birth to her second child, she's not shying away from sharing her post-baby body.
The "Lip Sync Battle" star is currently on vacation with husband John Legend and their two kids, daughter Luna, 2 and son Miles, 11-weeks-old, on a paradisiac villa in Bali, Indonesia.
The couple has been sharing tad bits of their vacation, with Teigen staying connected to social media to chat with her followers, as usual.
The 32-years-old recently took to Twitter to share a video of her body wearing only the bottom part of a bikini as she covered her chest with her hands. Chrissy showed off her belly and thighs with stretch marks and some mosquito bites, as she said in the background,
"I guess these just aren't going to go away. This is my new body."
Chrissy also shared her view on Instagram and the false belief that has created among women of having the "perfect body" thanks to detox teas and other supplements of that kind.
A few days ago, Teigen made fun of Instagram models as she posed in front of a mirror, and then edited the pic to make her waist look extremely tiny and the rest of her assets bigger, leaving her reflection intact to showcase the real deal.
"I have been training. to be an Instagram fitness model. this is after one bag of tea and 5 reps of 2 squats !!!! If I can do it so Can U!!!!," she wrote, earning a mixed reaction among fans.
After sharing the video of her post-baby body, Chrissy explained that is good for people to have a reminder that there are still other types of bodies out there, not only the curvaceous with flat abdomens that Instagram portrays.
She wrote:
"Instagram is crazy. I think its awesome people have killer bodies and are proud to show them off (I really do!!) but I know how hard it can be to forget what (for lack of a better word) regular ol' bodies look like when everyone looks bonkers amazing."
Chrissy made sure to let her followers know she's still not totally confident with her body, but the fact that she can help other women out there to feel better about themselves makes her happy.
Fans immediately took to her replies to share their post-partum experiences and praise Chrissy for keeping it real despite her stardom, and all the false expectations that Hollywood stars often put on just for show.
Read some of their comments below:
Please fill in your e-mail so we can share with you our top stories!