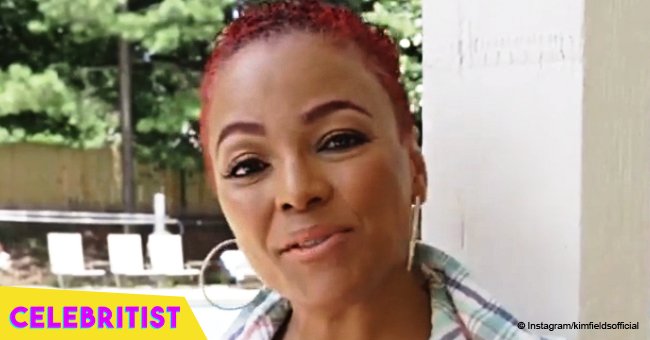 Kim Fields, 49, turns heads in black & white checked romper, showing off her red mohawk hairstyle
The American actress and television director has been in the entertainment industry for over four decades already, and is still highly sought after in Hollywood.
49-year-old Kim Fields has 53 acting credits to her name and a further 16 directing credits, and she's still considered one of the most versatile and beautiful actresses in Hollywood today, something many fans tend to agree with.
In a recent post to her Instagram account, the actress proved just why she has that reputation, and showed off her stunning looks without even really trying to do so.
In the beautiful shot, which featured two photos of her side by side in a collage, she could be seen looking relaxed as she prepared for another week of work.
In the two shots, she wore a white dress with a black diamond pattern across the entire garment. The neckline fell low down on her chest, and the asymetrical hemline fell to just above her ankles at its longest.
The actress also had on a pair of silver and white sneakers, a pair of black aviator sunglasses, and some gold hoop earrings. Her vibrant red hair was gelled to stand up in a mohawk.
She was leaning back against a white wooden fence, with a climber growing up it next to her.
"#RomperRoom ... Ready for a #MondayFunday ! #SheReady#NoMakeupForThisMoment KF: @richardnormangrant #hair: @richardnormangrant (ris-K-red color by @finishingstrong ) KF rockin @michaelkors kicks for the #shoegame #aviators #romper #sunkissedskin #beauty#fashion," she captioned the image.
Within a day, the post had over 50,000 likes, and plenty of comments from fans gushing about how she looks.
Shortly before the image was posted, she shared a video of her hair being down, showing just how she got to the look in the photos.
While the hair dresser danced around her shortening her sides, she pulled excited faces at the camera and kept repeating "line her up!" as he went.
Kim Fields, best known for her role as Regine Hunter on Living Single, is married to Christopher Morgan, with whom she has two sons, 11-year-old Sebastian Alexander and 3-year-old Quincy.
The actress recently took to her Instagram account to share a photo of her two boys together, and it's one that absolutely melts the heart.
Little Quincy had a dental appointment, and was clearly a bit nervous about it. Fortunately, he had his big brother on hand to comfort and calm him, and Fields shared the tender moment with her social media followers.
She had made a collage of the photos, with the top one showing Sebastian leaning over Quincy as he lay on the dentist's chair. The pair were holding onto each other . Sebastian seemed to be talking to his brother, who had a concerned look on his face.
The second image was a close up of the first one, and the third showed a tablet set up with Sebastian on a video chat so that little Qunicy could see him the entire time he was busy in the appointment.
Please fill in your e-mail so we can share with you our top stories!